It's that time of year again where autumn turns to winter and we're all on the prowl for new nail ideas in-keeping with the season. Whilst it might be slightly too early for Christmas manis *sigh* there's still plenty of time left to nail your fall designs.
We've seen the top trending fall nail colours for 2016 and now we can focus our attention on the more arty side of nail art. Think leaves, tartan and of course some super cute wintery animals.
Here are a couple of woodland creatures I've been playing with this season:
Hedgehogs
Winter months scream hibernation and what animal better to represent this than our little spiky friend, the hedgehog?
Using an abstract, cartoon-esque design I created this sweet accent mani in a rich chocolate brown colour perfect for Autumn (Models Own – Hot Chocolate).
On my other nails I used a fine brush to create little oak leaves using a mixture of greens, yellows and oranges to make Mr Hedgehog feel at home amongst the fallen leaves.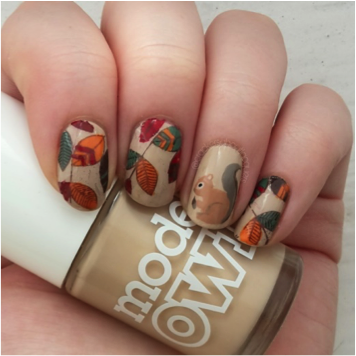 Squirrels
Again, the staple of Autumn/Winter animal couture…I love this little guy so much – I looked up squirrel pictures on the internet and did a really simplistic outline representative of a squirrel holding an acorn (essential for our tiny-weeny nail canvases if you're not particularly skilled at freehand like me).
I coupled him with some reverse stamping using plate BC11 and of course the staple Autumn colours of oranges, reds, browns and greens. The base is a lovely nude colour (Models Own – Emperor's Clothes) which really complements these tones and makes the fall leaves really pop.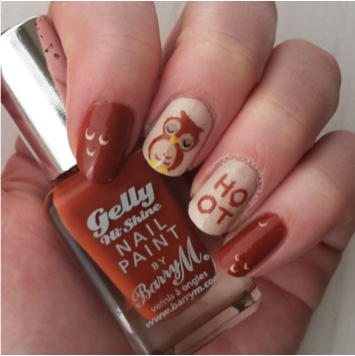 Owls
Well these were a hoot, literally. This is a really simple design that can be made as easy or as complex as you want. I used a fine brush to write the word 'hoot' on my ring finger and a large dotting tool for the middle finger owl.
For simplicity I just used two colours here - on the index and little finger I used a beautiful rusty orange (BarryM – Paprika) with a neutral nude to accompany (Models Own – Nude Glow). On my other nails I used a small dotting tool to create 3 dots in nude and then overlaid these 3 dots in the original rusty colour positioned slightly higher to give a half-moon feathery-effect.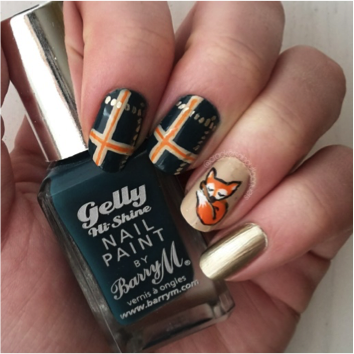 Foxes
A popular fall design, little foxes were really brought into light a year or two ago by @nailsbycambria (I'm sure you know the ones I mean). Her design was so simple and cute others swarmed to recreate the cute critter.
Jumping on the foxy bandwagon I've created this resting little fox to join my woodland creatures. Ever the fan of an accent mani, I've accompanied my fox with a classic Autumnal tartan/plaid print in a beautiful dark green (BarryM – Watermelon).
I used a really fine brush for this design and to give you a little secret I actually did my fox on a rubber stamp so I had better brush-control. I then put a clear coat of nail polish on the stamp and peeled off, transferring the image to my nail.
---
Here's just a couple of my 2016 woodland creatures that I think are a super cute Autumnal design for any nail shape and size. What other woodland animals would be cute on your nails – raccoons…bears…deer…field mice?
Let me know if you're inspired by any of these designs – I'd love to see your creations, just tag me on Instagram @crackersaboutlacquers and be sure to stalk me on Nailstyle to see all of my latest tutorials!