We're making a list and checking it twice, this year CND new nail designs are in sight! If you're anything like us, the holidays turn you warm and fuzzy on the inside as you don your warmest and fuzziest on the outside. You love finding the perfect gifts for your family and you live for the holiday drinks at Starbucks. The cold makes you cheerful and you can't wait to unpack your neatly wrapped ornaments and place them on your sweet smelling Douglas fir.
These festive nails add a glimmer of goodness to your fingers, day in and day out, and are able to go anywhere with you. Follow along with the steps below using Vinylux Black Pool, Cream Puff, Rouge Red and Silver Chrome. If you're feeling the holiday spirit you can even pick up these shades for your favorite little elves!
THE STEPS:
1. Start with clean, manicured nails.
2. Apply two thin layers of VINYLUX™ Black Pool.
3. Use a stylus with VINYLUX™ Cream Puff to create medium- and small-size dots around the perimeter of the nail.
4. Layer VINYLUX™ Rouge Red over the small white dots and add tiny VINYLUX™ Silver Chrome dots on the inside perimeter.
5. Apply a small amount of Super Shiney™ Top Coat to the center of the nail.
6. Place stone embellishment into the wet Top Coat.
7. Apply a thin layer of VINYLUX™ Weekly Top Coat.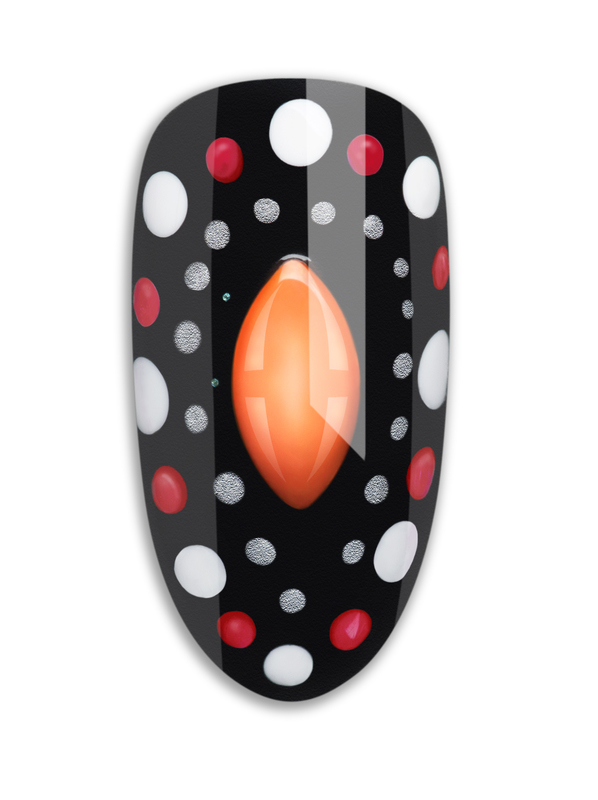 ---
We want to see how your Niki Nouveaux nails turned out! Be sure to tag @CNDWorld on Instagram and Stalk CND on Nailstyle and check out CNDUniversity.com for even more how-to's, tutorials and tips!