Why not spice things up this summer by creating a Cubana Manicure using the new shades from the CND Rhythm & Heat Collection. A Cubana manicure uses bright colors and well-thought-out placement to create a manicure that will last for the duration of your vacation. With a half-moon and crescent tip accentuation; growth is disguised beneath a mesmerizing mani. Follow along below to get the look!
1. Start with clean, manicured nails.
2. Apply two thin layers of VINYLUX® Sugarcane.
3. Apply a thin layer of VINYLUX® Weekly Top Coat. Allow to dry for three minutes.
4. Apply a thin layer of VINYLUX® Mambo Beat to the center of the nail leaving a moon shape in cuticle area and smile line at extension edge free of color.
5. If needed, perfect with the Gel Flat Oval Brush lightly moistened with acetone.
6. Repeat for additional coverage.
7. Apply a thin layer of VINYLUX® Weekly Top Coat.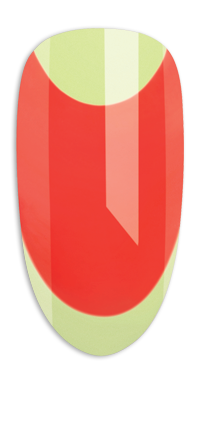 CND SUPPLIES
VINYLUX® Weekly Polish Colors:
CND® ProSeries Gel Flat Oval Brush
Where will you wear your Cubana Manicure?! Be sure to share them on Instagram and tag @CNDWorld. Want to see even more nail tutorials? Check out CND on Nailstyle and visit CNDUniversity for all the latest education!