You may know Home of Deva for her absolutely stunning nail designs; of Disney characters better than the original, perfect crystal and design placement, and a fresh take on the nail art scene in general. However, her creative approach and ingenious concepts are just a small part behind the beautiful soul that is Priscilla Van Uden. Learn more about this amazing nail artist, how she got her start, and what she is choosing to do with her spare time, it is truly inspiring.
How did you get into nail artistry?
I have been doing nails for a little over 4 years now. I actually studied International Business and Management in the Netherlands and have a Master Degree in Business. In my country, Suriname, I realized after many years in the business world that I wasn't ever going to earn what I should be earning. I spent most of my salary helping to feed, spay and neuter stray dogs and cats. I needed to earn more to be able to do this on a larger scale. My 2 sisters both had a salon and mentioned that they could use my help. They taught me how to do nails. We started small with just me and another girl doing nails.
I wanted to quit after just one month. I just didn't think I would ever be able to even polish someone's nails. I sucked at it! Shaping and prepping of the nails was my thing when I started. But, I kept practicing and started to actually enjoy it. Then my competitive spirit came up and I just wanted to become the best. I practiced day and night. I became obsessed! After 1 year we had 4 people working for us, and last year it was 8. We were fully booked and couldn't accept any new customers. Our customers booked ahead for the entire year. I was able to help hundreds of animals during this time and found homes for the majority of them. Right now I have 7 cats and 2 dogs and still feed the strays in my neighborhood daily. Unfortunately, this year, our economy collapsed and our nail business became a luxury that only a few could afford. We had to downsize and I am still hoping things will pick up. But the future in Suriname does not look promising at all.
What inspires your designs?
In the beginning, we didn't have our own style yet. I was a fan of Sarah from @getbuffednails, Sandy from @fiina_naillounge, Riya from@riyathai87, and many more. Then I discovered the Russian nail artists, they do amazing nails. Elena from @elena_gartseva, Tatiana from @nailartist_vseyarusi, Anna from @bagheeranails and so many more. Disney, Pixar and other cartoons, that make a difference in everyone's lives, usually inspire us now. Everyone feels good when seeing a character that makes them remember their youth. I also get inspired by Amrin Wahid from @girly.henna for the henna designs I do on nails. There are so many other things also… even my flip-flops or a print on a sofa can be inspirations sometimes.
On average, how long do you spend on your nail designs?
My sister, Vanessa, and I spend a lot of time on our designs. We are perfectionists. For our cartoon nails we try to work together. I will do the drawings and she will do the rest. If I would have to do everything by myself, these nails can be around 7-8 hours long.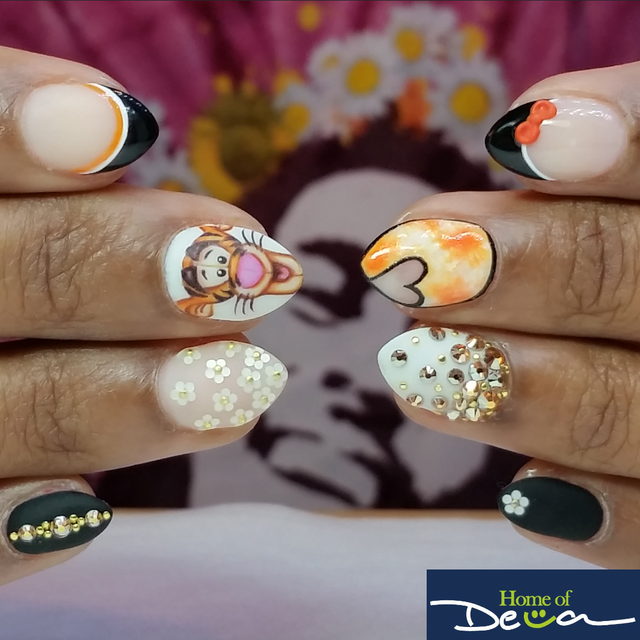 What is your favorite tool to use?
My favorite tool is an IBD art brush. It is a thin brush with long bristles. When the hairs start acting up and sticking out, I cut them. So, some of them only have like 5 hairs left but that helps with making really thin lines. It is super cheap, so I won't feel bad about having to throw them away after a while.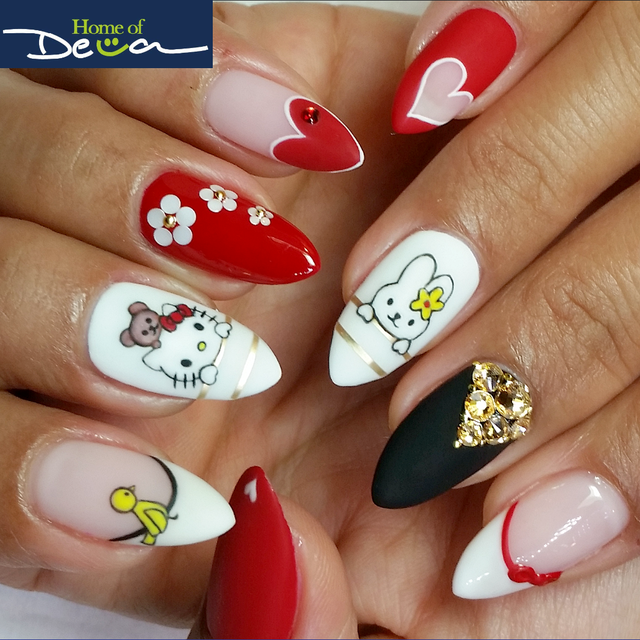 What do you love most about nail art?
I love the positive reactions I get from others. Especially from my customers… It makes me so happy to see that they love their nails. I also love that other nail artists feel inspired by us. I really love to see recreations of our work. It feels like we are making a difference in this nail community some how.
What is your biggest challenge?
Our biggest challenge is staying up-to-date with everything having to do with nails and having to come up with new stuff and designs, which haven't been done before. Vanessa is usually the one researching it all. She claims to be the "brain" behind it all and in most cases she is. We are a good team even though we get on each other's nerves sometimes!
Do you have a favorite nail design?
I think you would be surprised by my favorite nail designs. I love one color and a Swarovski crystal design on one or two nails. The same goes for Vanessa. We love simplicity. But we realize how much people love our cartoon nails so we place our focus on that.
How do you normally wear your nails?
My nails are usually plain, just one color and short. I occasionally do art on myself… just my left hand as I am right-handed. Vanessa's nails are usually to die for! She is my victim for cartoon nails. She hates sitting for those because she has very little patience. Hard to believe for a mother of 3 boys!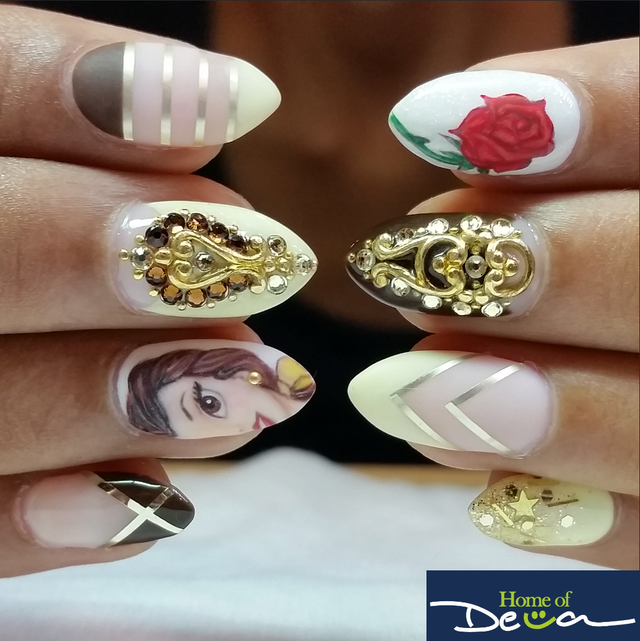 Are there any new trends or techniques you're looking forward to?
I seriously don't know how these nail company's come up with so many new things. Right now the big thing is chrome and holographic nails. They always surprise me with their creativity. I wish they made chrome and holographic nail polish instead of powder. That would be such a great invention! And how about a quality gel polish where no base and topcoat is required and where you only need 1-2 coats max! That would be heaven!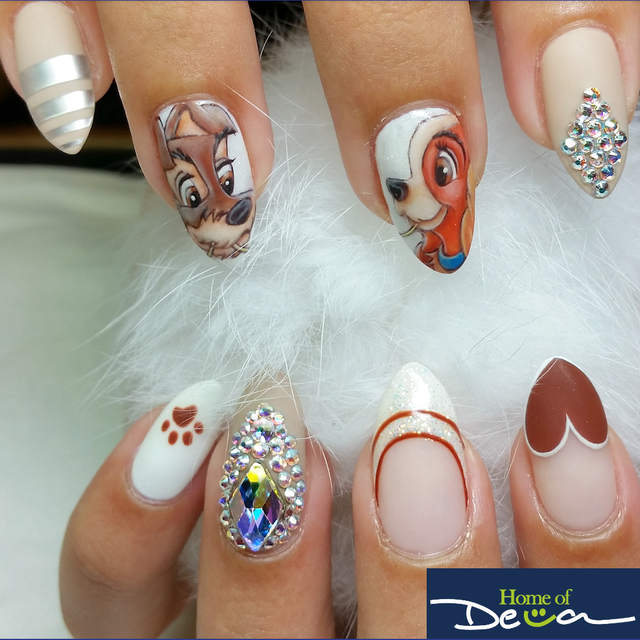 Favorite shades for fall?
In the fall people tend to use dark colors. We have sun all year round in Suriname and the only seasons we know are either rainy or dry seasons. If I would choose a fall color it would be burgundy and dark/deep reds.
What do you hope to see next for nail art?
Chrome and holographic dust replaced by a polish form.
---
For even more inspiration and beautiful nail designs, be sure to stalk Home Of Deva on Nailstyle and check out her Instagram @Home_Of_Deva