With Love Actually and Home Alone playing on repeat, twinkle lights at every turn and holiday cheer being spread far and wide be sure to add a bit of sparkle to your mani this season! With the latest nail tutorial by Karolyn at Nails Of Aquarius she shows us how to create a dynamic design perfect for any holiday occasion. Take a peek at the steps below to see her beautiful work and follow the steps to learn how to make your very own festive manicure!
---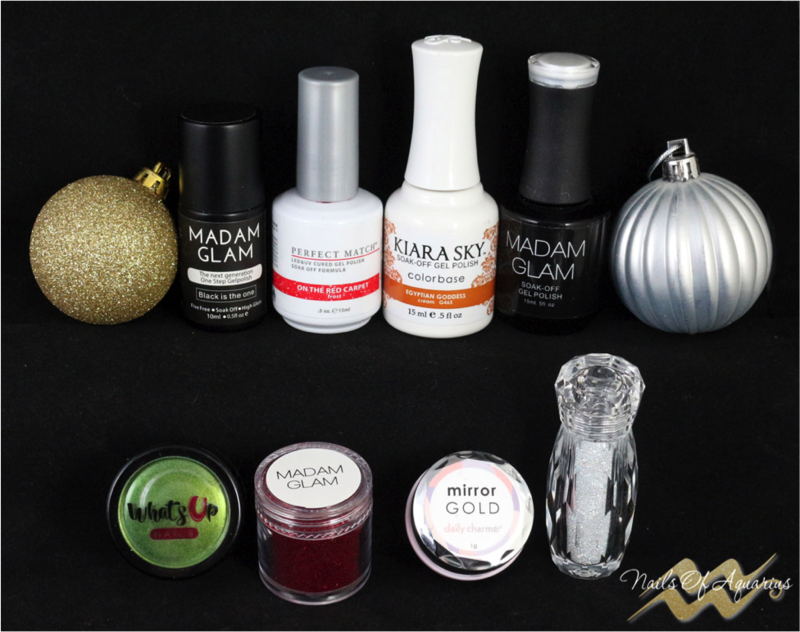 Products Needed:
(from top L to R)
Madam Glam Black is the One, or other One Step Black gel polish
LeChat Perfect Match On The Red Carpet or other red glitter gel polish
Kiara Sky Egyptian Goddess or other tan gel polish
Madam Glam Shimmer White or other shimmery white gel polish
What's Up Nail Absinthe Powder
Madam Glam Love Potion Glitter Dust or other red glitter dust powder
Daily Charme Mirror Gold Powder
Swarovski CrystalPixie in Comic Pop
Also Needed But Not Shown:
Akzentz Bling On
Swarovski Flatbacks Dark Moss Green ss5
Swarovski Flatbacks White Opal ss7
Swarovski Flatback 5mm Rivoli Star Crystal
1mm Silver Glitter Tape
Small brushed silver square stud
Your favorite No-Wipe Gel Topcoat
Your favorite regular Gel Topcoat
Eyeshadow applicator, tweezers and/or gem applicator, fine detail nail art brush
Step 1. Apply 2 coats of the gel polish colors as shown, curing when needed. Apply regular gel topcoat to the index, middle and ring nails.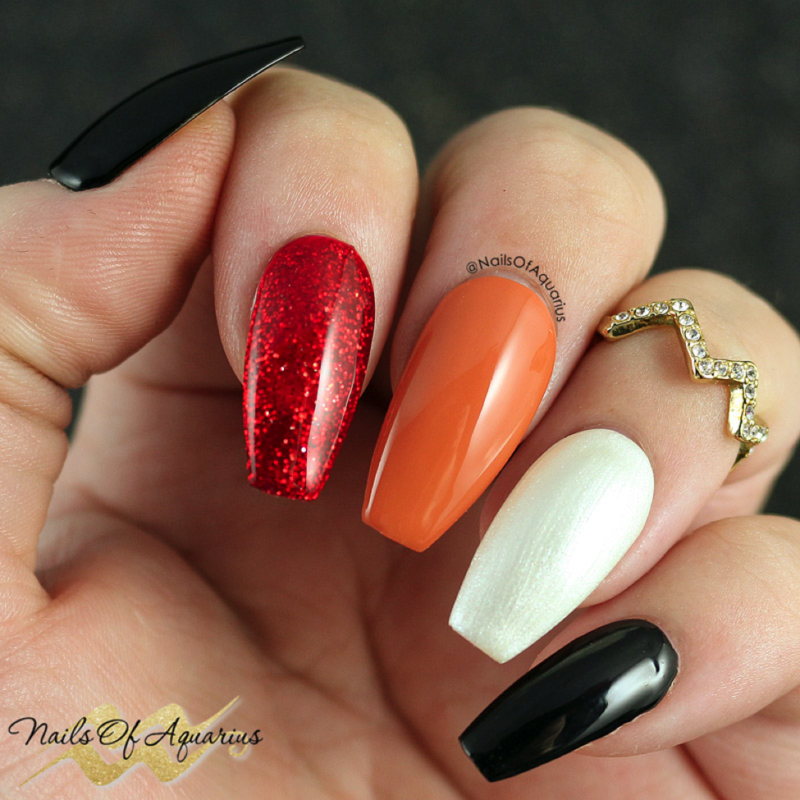 Step 2. Use an eyeshadow applicator to dab the Absinthe Powder onto the black nails.
Rub the powder in with your finger for a high shine. Finish with a thin coat of No-Wipe gel topcoat and cure.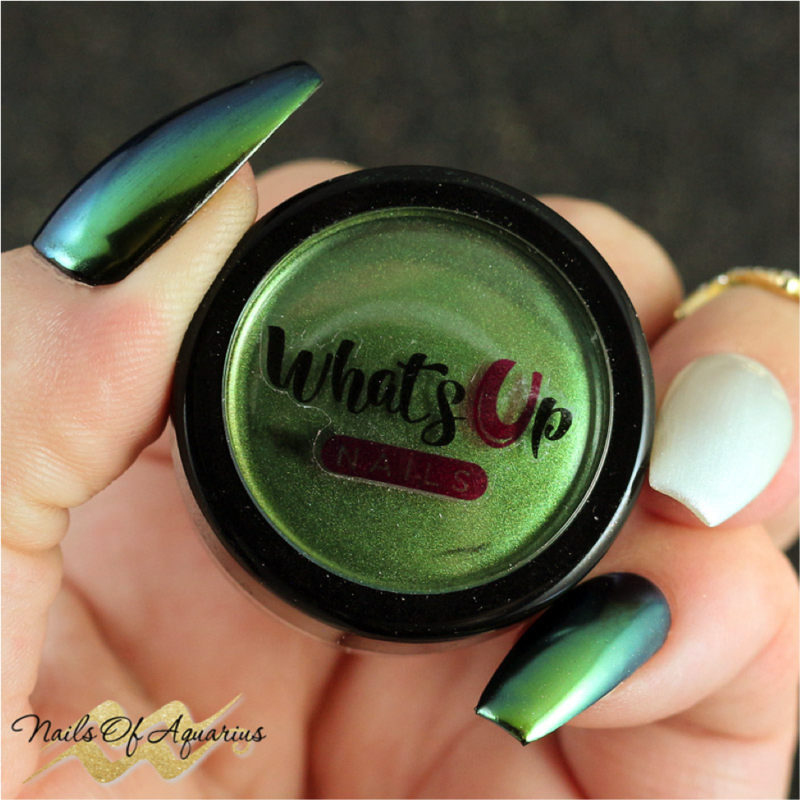 Step (3) Apply a thin coat of No-Wipe gel topcoat to the middle finger nail and cure. Use an eyeshadow applicator to dab on and rub in the Daily Charme Mirror Gold Powder. Follow with another coat of No-Wipe and cure.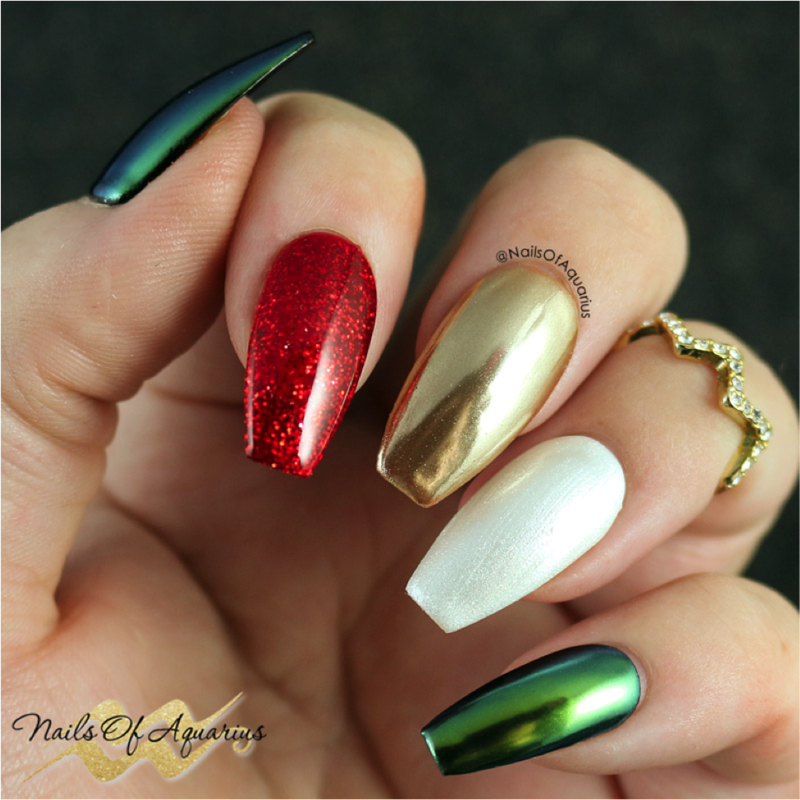 Step (4) Next add the ribbon tree over the gold chrome. You can freehand the design or trace a pattern as I did. Use a fine detail nail art brush to apply a thin line of Akzentz Bling On over the tree. Place the 5ss Swarovski Dark Moss Green Crystals and add the Rivoli Star Crystal at the top. Cure.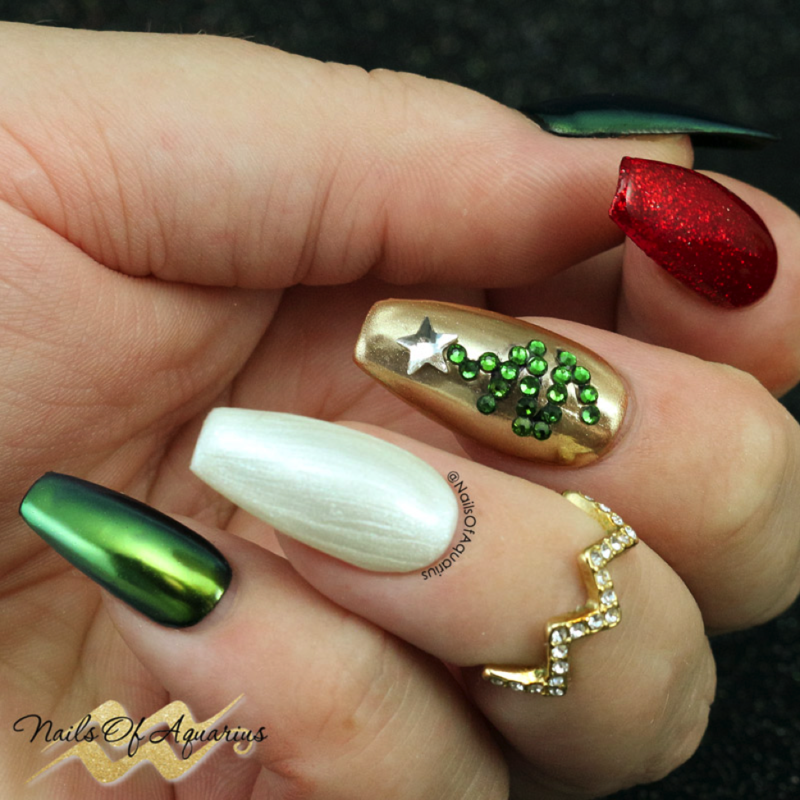 Step 5. Apply Akzentz Bling On to the entire ring finger nail. Randomly place 5 Swarovski Flatbacks in White Opal ss7. Then coat the nail with Swarovski CrystalPixie Comic Pop. Tap off any excess and gently push the Pixie into place. Cure.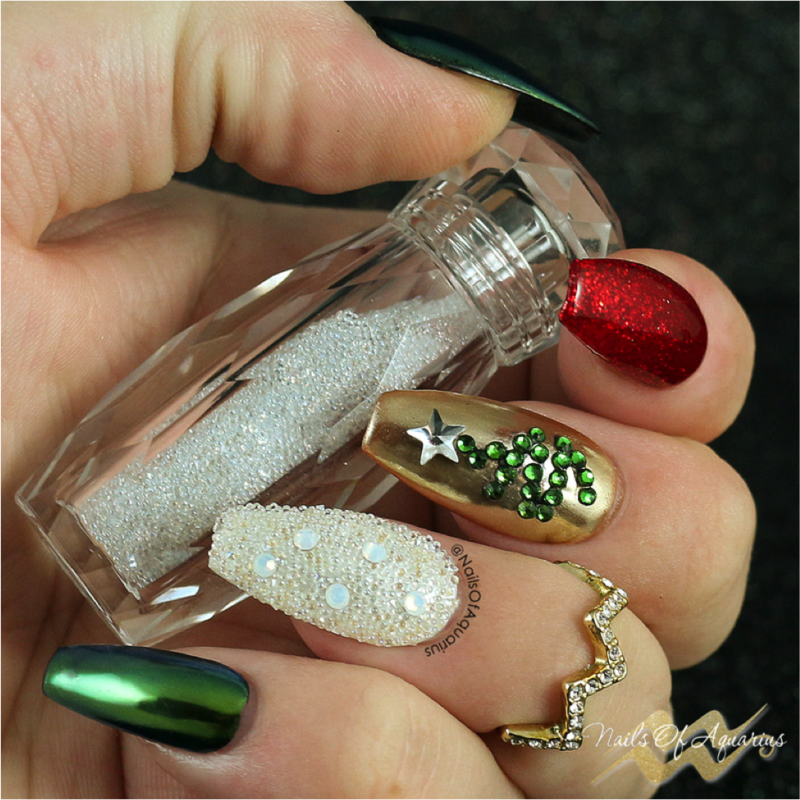 Step 6. Now for the messy step. Wrap your nail in a non-latex wrap if possible to contain the glitter. Apply a coat of regular gel topcoat to the index nail and cure. Scoop on the Love Potion Glitter Dust Powder and clean up any excess. I wanted a textured look and didn't apply topcoat but it's your choice.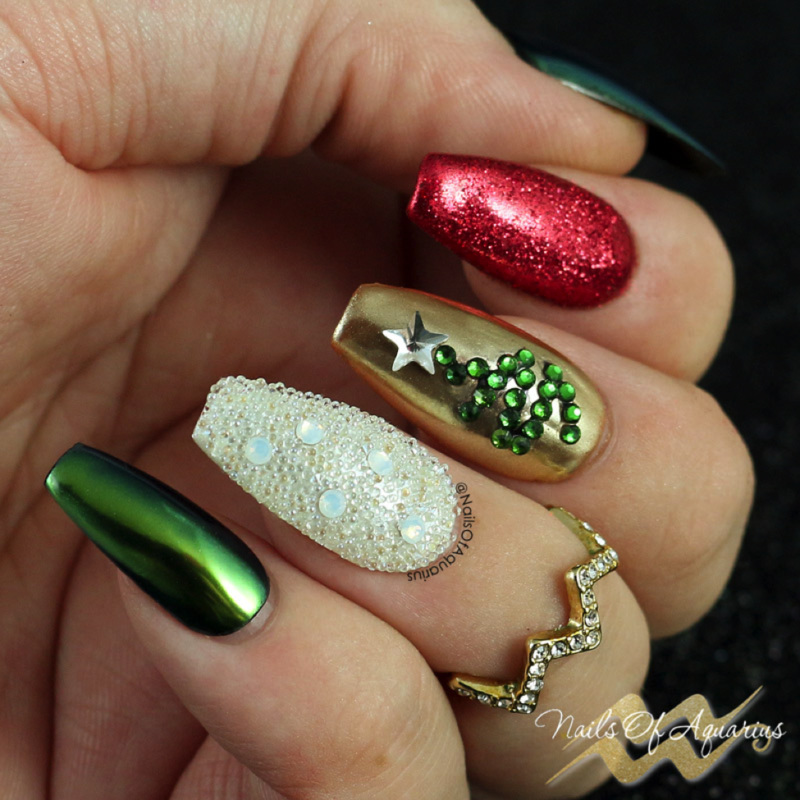 Step 7. This step is optional as I can't bear to see a bare nail. Run 1mm Silver Glitter tape down the length of the nail and top with a brushed silver square stud. And you're done!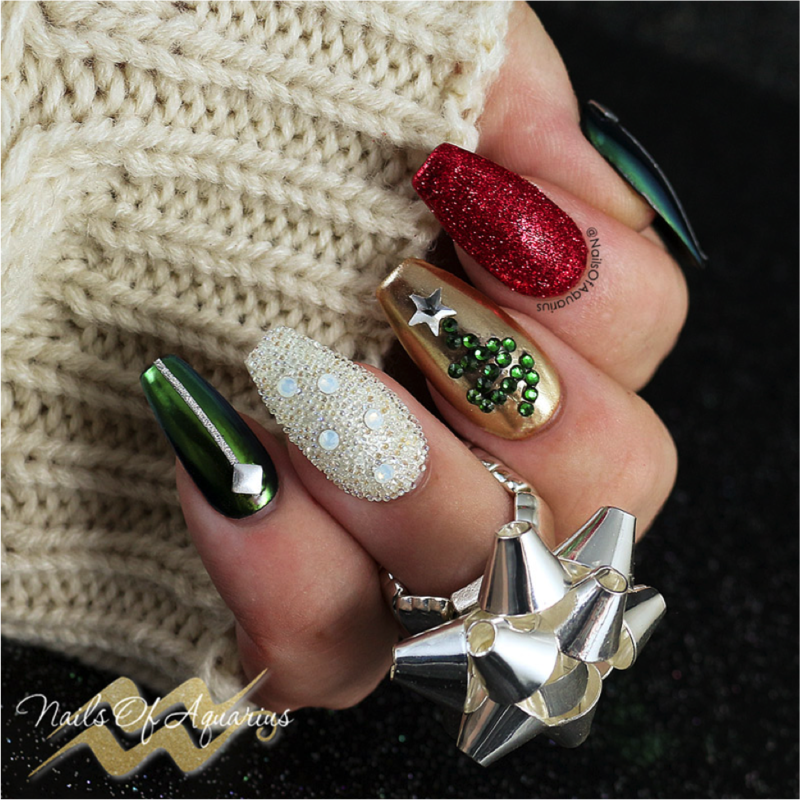 Merry Christmas to All!!
With Love, Karolyn at Nails Of Aquarius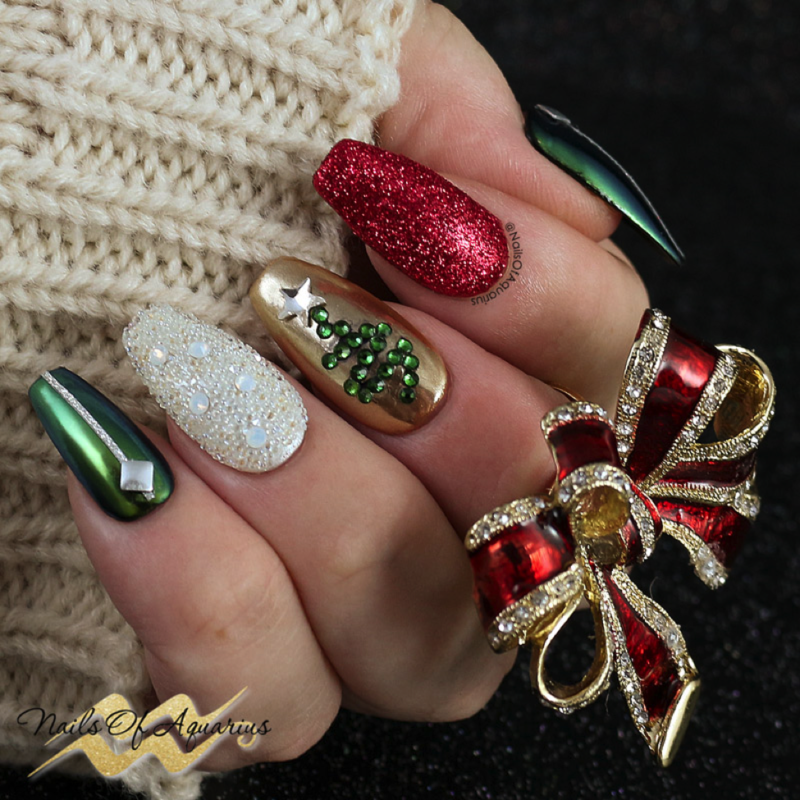 For even more festive inspiration and beautiful nail designs for the season to come, be sure to stalk Karolyn on Nailstyle and stay tuned for even more tutorials!