Inspiration is everywhere and recently all the beautiful trends seen in home décor - the whites, grays, sparkles and rose gold accents are simply to die for. This season keep your eyes open because inspiration is everywhere! In this tutorial Sheily Mae created a gorgeous Geometric Metallic nail design that we can't wait to copy!
Polish:
Fingers Paints: "Wanna Gogh Dance?"
OPI: "Alpine Snow"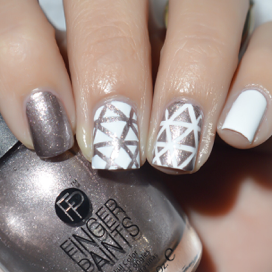 The Steps:
First, prepare your base colors. Pick a sparkly or metallic color on the index and middle finger and white nail polish on the ring and pinky finger. (The design will be on the middle and ring finger, so it could be alternated.)
Prepare striping tape by cutting little pieces to have ready to create your design.
For this design, put the striping tape horizontally, then diagonally to the right, and diagonally to the left. Make sure to secure it very well so that the design turns out perfect.
Paint the opposite color on top of the striping tape and remove it as quickly as you can. Clean up around the nails, add a top coat, and you're done!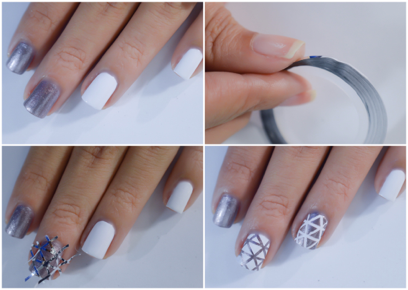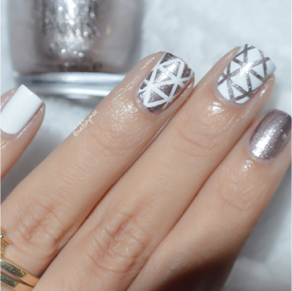 Be sure to stalk Sheily on Nailstyle and stay tuned for even more nail inspiration from Sheily Mae Nail Art!