Step into the wizarding world of nail art, fantasy, and spell-tacular nail art with this Harry Potter inspired design by Melgin Wright. Melgin proves what an artist she is with her miniature portraits of Harry Potter characters on each nail. She went into detail for us about the detailed Dumbledore, everyone's most loved Wizard. Check out the steps below!
---
1. Apply 2 coats of blue nail polish for the background colour and then using flesh coloured acrylic paint apply a base colour for the character's face.
2. Apply the second coat of flesh coloured acrylic paint and let dry. Once dry, carve out the facial features by using a lighter shade of paint to highlight the nose, cheeks and forehead.
3. Start applying more details to the character's facial features, eye colour, gray eyebrows and gray/ white mustache.
4. Apply a light blue paint for the character's clothing. Using a feather light strokes with your paintbrush, using mustard and white coloured paint for the beard.
5. Apply a gray/ blue colour for the character's wizarding hat. Continue using light strokes with your brush to add more mustard coloured paint to the beard.
6. To add more dimension to the beard, apply gray/ white paint to the character's beard. For the wizarding hat, use a light gray acrylic paint and with a motion of painting the letter "W" in a continuous fashion, paint the "W" from one end of the hat to the other. Adding a dot to each point and a straight line at the bottom of the "W". To add dimension, use white paint to the "W". Apply the remaining mustard colour paint as the tassel of the hat.
7. For the background, use sky blue paint and with a light dabbing motion with white paint, paint clouds. For the wizard's wand, use brown paint and paint a line and 3 dots. To highlight add a bit of white to the brown paint and go over the wand. Let the paint dry and then, apply 2 coats of top coat.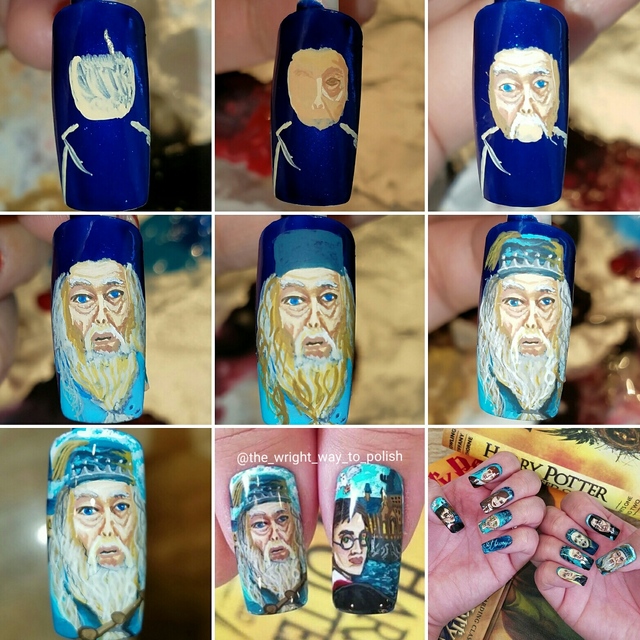 Love this look? Be sure to stalk Melgin on Nailstyle and Instagram @The_Wright_Way_To_Polish and stay tuned for even more imaginative nail designs!