As we get ready for holiday cheer and New Year all around, find a nail design that you'll love all season long! In this tutorial from Harli Hall learn how to create this adorable nail design that we can see continuing into the New Year! After the holidays have past we can see these being recreating in alternate colors for a one of a kind design. Follow the steps below and be sure to let us know what you think in the comments!
---
Step 1: After applying a base coat top with a thin layer of Mademoiselle
Step 2: Using Really Red and the polish brush add a swipe to the tip of the nail.
Step 3: With the detail brush and Blanc paint some scallops not touching the red polish.
Step 4: Add medium sized dots of Blanc within each scallop.
Step 5: Using the small dotter and Blanc line the bottom of each scallop with dots.
Step 6: fill the space between the scallops & Really Red with Getting Groovy.
Step 7: Finish things off with a layer of Good To Go top coat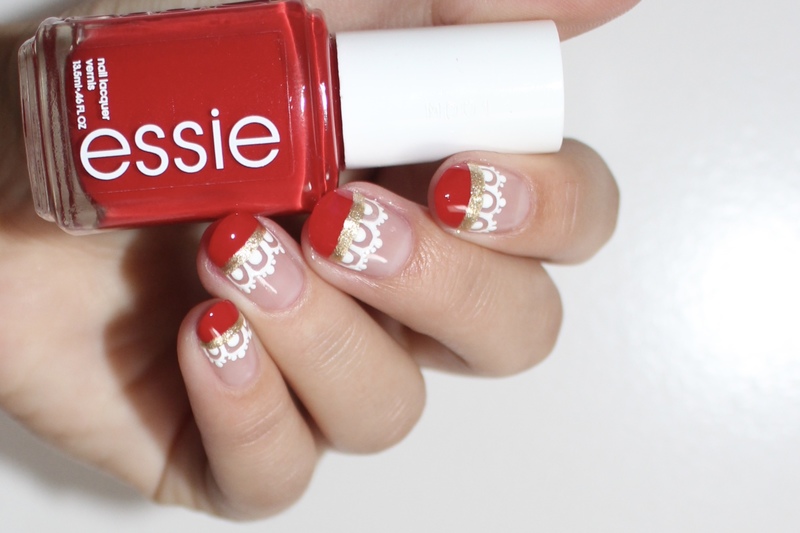 ---
Products Used:
Essie 'First Base' Base Coat
Essie 'Mademoiselle'
Essie 'Really Red'
Essie 'Blanc' (or white acrylic paint to make it easier)
Essie 'Getting Groovy'
Essie 'Good to Go' Top Coat
Medium Dotting Tool
Small Dotting Tool
Detail Brush
---
Want even more holiday nail styles? Take a peek at our tips and tutorials to keep your nails merry and festive this season! & be sure to check our Harli Hall on Instagram for her latest uploads!