Ever wondered how to get your name neatly along your cuticle on your nail pictures? We've all been there at some point. I learnt the hard way…and it took me months and months to do it. So to save you time and to share great hints and tips with you, here's a quick tutorial for how to watermark your pictures using a free photo-editing app: PicsArt.
Why Watermark?

Firstly, you might be asking yourself why do you need to watermark? It isn't about need really – if you don't want to then that's absolutely fine! But the main reason many artists want to watermark their work is so that they can be easily identified as the creator and therefore are less likely to be a victim of copyright (whether unintentional or not). Not be too sinister about it – most of us in the nail community is very supportive and would be mortified if we thought we hadn't attributed a design or inspiration to someone!
How To:

For this example, we will be working with PicsArt as this is the app that I use and know many of my Instagram followers also use. Note: there are many other great picture editing apps that you can download for both Apple and Android that will help you edit and watermark your nail art before posting your designs out on social media so don't be afraid to use whichever feels most intuitive to you.
Anyway, on to business. Let's take each step of the process in turn:
Step 1: Prep, Edit & Crop
Select the image you wish to upload to social media ad open it up in PicsArt.
Using the Tool option you can crop your picture and edit the colour, brightness and contrast settings. Other edits are available in the Effect option.
I'm not going to go into editing your pictures here because it is too dense a topic to cover in this article so I'm just sticking with the watermark which we'll move onto now.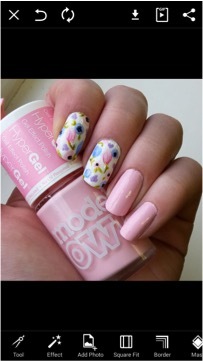 Step 2: Select Your Text
Once you're happy with the editing navigate the bottom options bar by swiping to the right where you will find more options. Here you will see the Text option.

In the 'Preview Text' box type your social media handle, or whichever wording you want to use for your watermark. For the purpose of this example, I will use my own tag @crackersaboutlacquers.
You will see under the text box that there are colour boxes marked with the letter T, the first of these is the colour of your text, the second will fade your text from one colour to another and the third is the outline. For my example I am leaving it plain white but the styling is totally your choice.
You will now want to select the font you want to use. You can do this by clicking on PicsArt Fonts, or, if you have already downloaded other fonts within the app, the options further down the menu.
When you're happy with the font you have chosen select the tick in the top right corner – this will place the text centrally on your picture for you to move as required.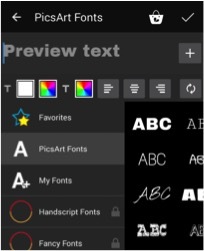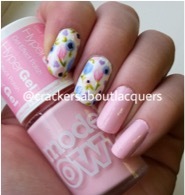 Step 3: Arrange Text & Wrap Around the Cuticle
Now your text is on your image you can move it wherever you want, adjusting the size as appropriate using this icon. You could put the image on the polish bottle in the order of the page or along your fingernail. A popular choice is to wrap the text along your cuticle – a subtle yet effective way of watermarking your work.

To do this position your text along the fingernail you wish to watermark. Use the arrows to tilt the text at an angle, so they are roughly in line with your cuticle.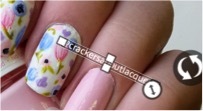 The text is now in the perfect position to be 'wrapped' i.e. curved in line with your nail bed. This is really easy to do on this app. Click on the icon with the three slide bars, here you'll find three options, including one called Wrap.

Select the

Wrap

option and slide the bar to the left for the text to wrap downwards and right for the text to wrap upwards.

Due to my hand position I need to wrap downwards as that is the direction my nail is facing. So the bar on my example reads wrap -216 and I can see on the image that my writing is now curved.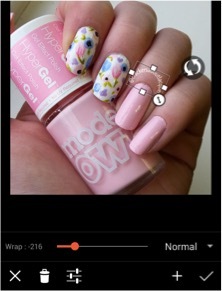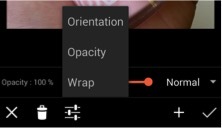 To get the text in line with the cuticle it is best to zoom in at this point. Using your mobile device or tablet, pinch the screen, as usual, to zoom in. When you're close enough to position the text just click back on the text to select it again.
Simply drag down to position and using the double-ended arrow icon you can adjust the width and height of the text.

Step 4: Text Opacity
You can save it here if you wish. Alternatively, you may want to make your watermark more subtle by fading it. My personal preference for fading my watermark is because I don't want to take anything away from my design but I would like some peace of mind that if someone sees then they know I did it. I have selected 45% opacity for this reason.
To do this return to the three slide bars and select Opacity – just like Wrap you get a sliding bar. Slide the bar to the left to make the text more transparent (clear, faded) and to the right more opaque (solid colour).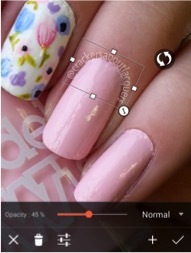 That's it – you're done! Click the tick in the bottom right hand corner to save your text and then you're ready to save your image using the little download icon along the top left. Post away!
And here's the finished result. I hope you found this article helpful and easy to follow but please don't hesitate to ask any questions – I'm happy to help!
Thank you for reading and it'd be great to have your support on Instagram as well as Nailstyle!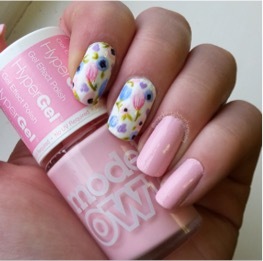 Rachel (@crackersaboutlacquers)
---
Be sure to stalk Rachel on Nailstyle and check out her latest uploads and tutorials!