Before design comes inspiration. We are inspired by the visual intricacies we see in everyday life, the trees we pass, the fabrics we see hanging in windows, even the scarf the girl at the coffee shop was wearing. All of these little designs are indexed and stored to bring us inspiration when we are ready for it. Mood boards are a physical representation of this idea. A place where you can keep your images present to work out ideas, test concepts and create new ones.
Mood boards are used in a variety of industries by a plethora of individuals to convey a theme or visual feeling for a particular project. Photographers most often use them and fashion houses rely on them as well, however they can be used by anyone looking to create a visual platform for a working concept or presentation. CND's latest Holiday 2016 collection, Starstruck, started off with visions of dazzling jewel tones, a variety of texture, and Old Hollywood glamour.
"There was an element of danger in the Old Hollywood equation," says CND co-founder and style director Jan Arnold. "This tension of grace, power, and risk inspires the jeweled, short nail of the season, which pairs best with a little black dress or pristine winter-white cashmere. An ensemble this mesmerizing is sure to leave all of your fans starstruck."
The Starstruck Collection features six new shades in SHELLAC™ Brand 14+ Day Nail Color including Garnet Glamour, Alluring Amethyst, Dark Diamonds, Blushing Topaz, Emerald Lights, and Starry Sapphire.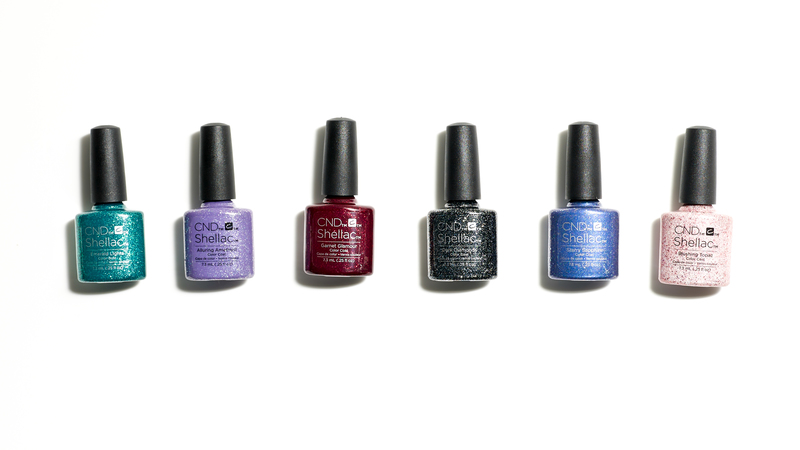 CND's top nail artists show you how the mood board above gave life to four textured nail art designs. Stage your own entrance into Old Hollywood and give clients an extraordinarily rich fall look.
---
CND's top nail artists show you how the mood board above gave life to four textured nail art designs; Black Lace, Esmeralda, Duchesse Couture and Crushed Velvet. Be sure to upload your creations so we can see all of your designs! Stalk CND on Nailstyle and check out CNDUniversity to see the latest in education!