CND has always led the way of when it comes to nail inspiration. At the helm of creative disruption, they push the limits of nail art and innovation as they pave the way for young artists and enthusiasts in the industry. This year, they named their first Creative Ambassador, the lovely Miss Pop. While she can usually be found working on editorials and celebrity clientele, her new role with CND is all about creativity. "CND is known for fostering unique, out of the box, nail art. So, I love the constant creative challenge of partnering with a brand that's always pushing the envelope. Especially with all of the nail innovations like CND Shellac and long wearing Vinylux, it's a really exciting time to be a nail artist!" she says.
Nailstyle had the chance to chat with Miss Pop about her new role, from her guilty pleasures to nail art and even how she got her name!
Which design from Fashion Week was your favorite to create?
Hands down, the gold stars I created with CND Vinylux for the Jeremy Scott Fall 2017 runway are my favorite. Before I became a nail artist, I wore classic red lipstick and red nails every day. There's just something so glam about that shade. To compliment the Hollywood-themed collection, I added the glitz of gold stars dancing across the nails in three different ways— rising from the corners of the nails, co-stars on each side, and big stars center stage on the nail. I wanted to make the look as playful as the designer himself! But perhaps the best part about that look is that it's an easy DIY for my nail art queens. All you need is painter's tape and scissors, plus Vinylux of course, to get the look.
What do your nails look like right now?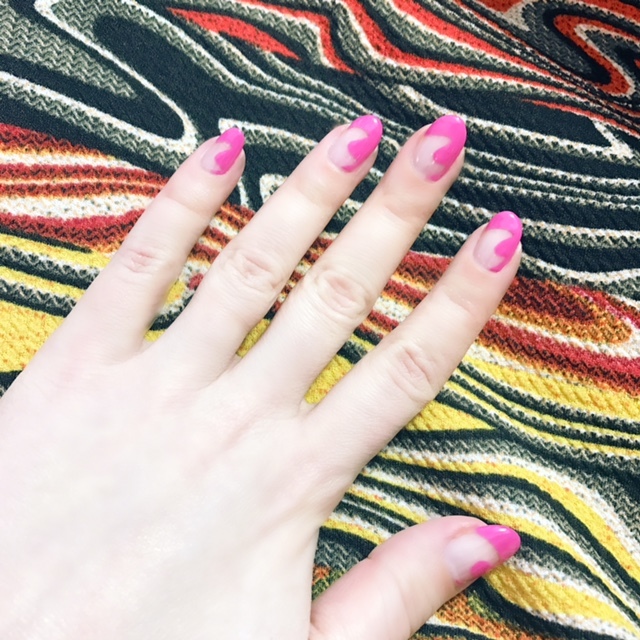 I'm in a pink phase. When I was a girl, I did not like pink. But now, I can't get enough of it! My nail look right now is inspired by the hair I wish I had. The design is sort of a squiggly, elongated, asymmetrical mani that was inspired by a flapper's finger waves. The rest of the nail, I simply coated in CND Shellac in Clearly Pink to give the negative space a healthy, rosy hue. For the design, I used CND Shellac in Hot Pop Pink, of course. As for my toes, I'm ready for sandal season with hot pink glitter CND Shellac Butterfly Queen.
How did you get started in nail art?
One of my favorite movies to watch during sleepover parties was "Earth Girls Are Easy." Most people would agree that it's about three hilarious aliens who land in a manicurist's' pool. But when I watched it as an adult, I felt the real star of the movie was all the totally amazing nail art she painted at her salon. I had done nail art as a tween, but was forced to stop because it was deemed against the dress code. My love for nail designs was rekindled when the movie popped up in my suggested Netflix titles. And I haven't worn a plain shade since.
Where do you draw inspiration for your nail art designs?
I'm always looking at fine art and fashion trends. This year, I went with CND to Art Basel, the annual art fair in Miami, and I spent half the time looking at the art and the other half painting myself. It was so inspiring! I must have taken a hundred reference shots with my camera and of course, I was sketching up a storm in my notebook.
What is your favorite nail art to do right now?
I'm obsessed with negative space. From a practical standpoint, it masks chips if you're using nail polish and growth if you're using gel polish. Plus, it's easy for DIY nail enthusiasts to create looks with tape tricks. Negative space also shows off your healthy natural nail kind of like a nail bikini. But the main reason I love it is because it so chic. You can even create a design with a single shade.
Do you have a favorite nail shape?
I'm all about a tapered oval. I think it's the most elegant, flattering nail shape to lengthen the finger. But, I have worn all the shapes from long squareletto to short and sweet and I've loved them all for different reasons. Nail shape is really so personal, it really is a clue to the wearer's personality.
When getting ready to do a Mani, I never sit down without my…
Small, filbert head paintbrush for clean up. I'm into tiny details and those details need to be perfect.
What is the CRAZIEST thing someone has every asked you to do on their nails?
I'm known for minimalist 3-D looks. So, I don't get a lot of crazy requests. However, I once created a bold and bright 3D tropical floral garden. The flowers alone took me about 16 hours to make. I have to admit, by the time I was done, I wished I was wearing them on my hands. Although, I wouldn't have even been able to pack up my kit if that was the case.
When working with a client, how do you make sure to get their vision across but still stay true to your aesthetic?
Communication is key. I, of course, want to do a design I'll be proud of, but they have to wear it. So, I'm happy to discuss the look and even draw out ideas. I always travel with sample designs and that usually helps get the conversation going. I think when talking about nail art visual references really help, even more that words.
How often do you do YOUR nails?
I wear CND Shellac religiously. So, I do them every two weeks.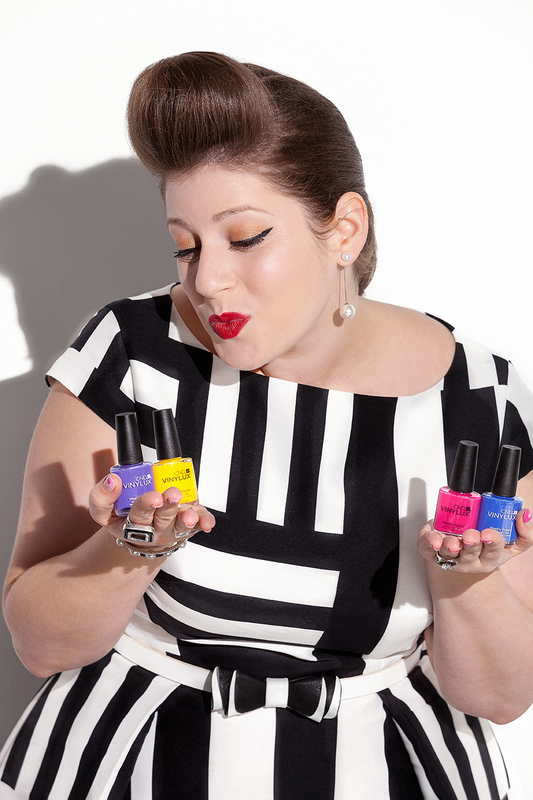 What is your go-to shade of the season?
Well, I can never just pick one shade. My go-to this season is black and white mixed with super saturated shades like primary red, blue, and yellow, plus hot pink and sky blue.
What celeb would you love to do and what Nail design would you give them?
My favorite part of being a nail artist is meeting so many incredible women from all different corners of the world and walks of life. In the hour or so we spend together while I do their nails, I love hearing their stories. So, if I could choose someone, I would love to do Supreme Court Justice Ruth Bader Ginsburg's nails. Among her many amazing accomplishments, she also has incredible personal style. I bet she'd want a groundbreaking design to match her career trajectory. And I bet she has the best stories!
Gel or Lacquer, and why?
I love them both, for different reasons. It's like picking between children, so I'm told. Gel like CND Shellac is great for growing out my nails and keeping the polish on them perfect since I work with my hands. Plus, that glossy shine is mega! Lacquer, on the other hand, was my first love. So, it has a special place in my heart. With CND Vinylux I can get a week of chip free wear and sometimes I really want to change my designs frequently. So really, I pick both. I'm just happy as long as my nails are done!
What age were you when you got your first Mani?
Oh, my guess is three or four years old because that's how old I was when I broke my first bottle of nail polish. My mom had gotten me a Tinkerbell nail polish and I was so excited to use it, I was running across the house and dropped it accidentally. Not much has changed. To this day, I'm notorious for dropping bottles. I break at least one during each fashion week. Mr. Pop jokes it's my good luck charm! I'd argue I have a delicate brush stroke, but a clumsy everything else.
How did you get the name Miss Pop?
I took Pop from Iggy Pop. I absolutely love him because in addition to being smart and talented, he's just someone who is still so engaged in life and art. I've seen him live a handful of times and his performances are just unbelievably electrifying. He's not the kind of guy who would mumble through the hits for a paycheck. Iggy Pop rallies every single person in his audience. His energy and honesty is infectious. He is a legend, but he doesn't rest on his laurels. He made a record last year with Josh Homme from Queens Of The Stone Age— Post Pop Depression, and it's just amazing! It's so insightful and it's just great social commentary. He really inspires me to always give it my all.
What's your guilty pleasure?
I'm addicted to this beauty podcast- Fat Mascara. It's all about every aspect of the beauty industry- from products to personalities. It's so fascinating. I have to listen to it every Tuesday right when a new episode drops. The hosts, Jessica Matlin and Jenn Goldstein, are hilarious. I've bought so many of my fav make up and hair magic off of their suggestions. So, I guess maybe my guilty pleasure is the rabbit hole of covetable beauty products that are mentioned on Fat Mascara?

To see even more CND tutorials and Miss Pop nail art, be sure to follow @misspopnails and @cndworld on social!