What's the best thing about fall? Fashion week of course! We get a hint into the styles we get to look forward to and online shop for before the long haul that is winter. This year, Fashion Week has brought into the limelight the beautiful designs that are nail art. In this feature, from Nail It Magazine, they go through the trendy Spring Show of Tanya Taylor and feature the nail art by Morgan Taylor. Take a peek at these looks and get ready for Spring!
---
Who doesn't love a jaunt to the islands—any island? And if you can't get away, why not wear cheery clothing—and, dare we say, nails—inspired by such travels? At designer Tanya Taylor's Spring/Summer 2017 Collection, her trips to Capri, Cuba and Barbados inspire the tasseled and floral-printed wares—and the nails take a page from the vivacious shades found on these isles. To play off Taylor's color scheme, Morgan Taylor Lead Nail Artist Gina Edwards breaks out a slew of bright Morgan Taylor lacquers— West Coast Cool, Orange You Glad, Tropical Punch, Mint Chocolate Chip, Ahead of the Game, Tokyo A Go Go, Sweet Escape and Deja Blue—to hand-paint half moons on the top and bottom of her dozens of nail tips. A base coat of Morgan Taylor New School Nude anchors the colorful shapes, allowing them to boldly stand out. "No two nails are the same, which I love," Edwards says, noting that a final touch—matte topcoat—subtly washed down the brightness of the hues to "embody those beach-y, subdued vibes that inspired Tanya."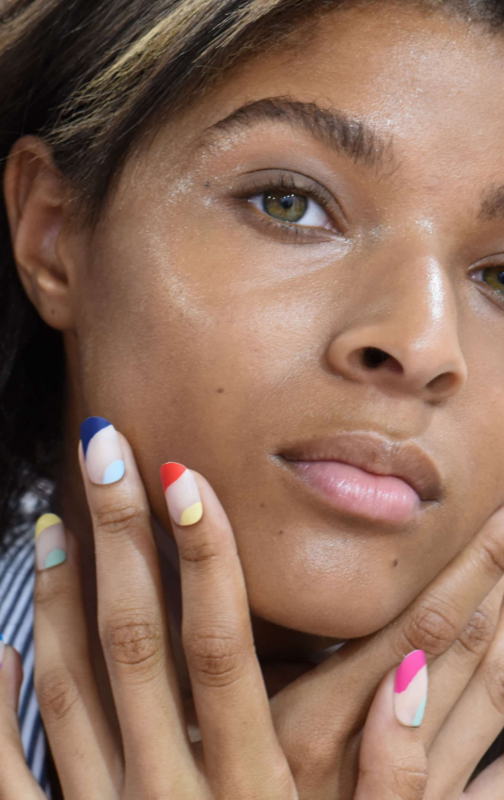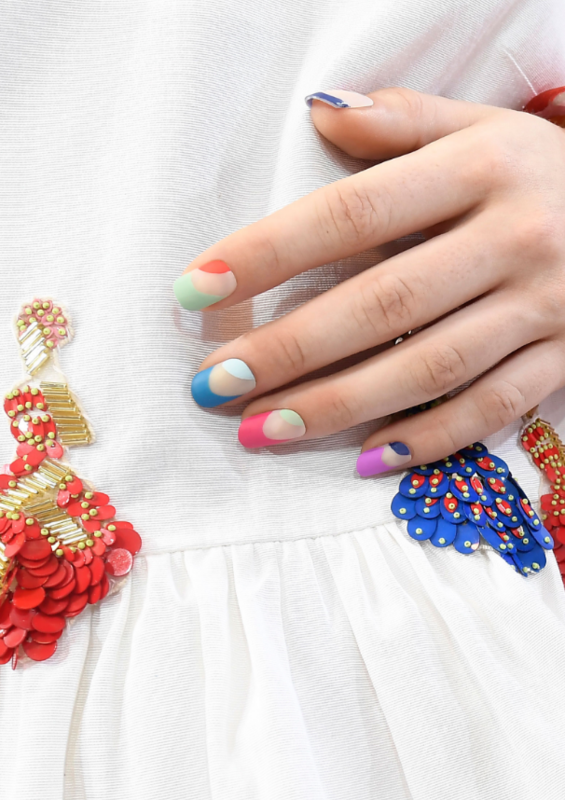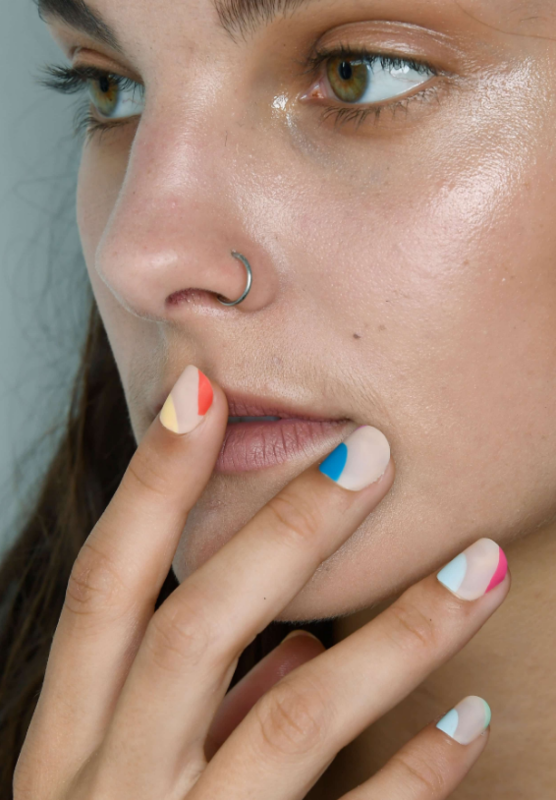 "This collection is quintessential spring and summer, and that's the nail look I went with," explains Edwards. "You see the hair and makeup follow suit perfectly, and it all just falls into place."—Rachel Kossman
Image credits: Courtesy of Morgan Taylor
Be sure to check out even more nail inspiration and tutorials from Nail It Magazine and follow their Instagram for up-to-date uploads!