Whether you love geometric designs, glitter, crystals, or Harry Potter, Jeealee has a nail design that you will LOVE! Her intricate designs and perfected aesthetic leaves us pining for the release of her latest nail designs! She is such a creative nail artist, we can't wait to see what she unveils next!
---
How did you get into nail artistry?
I've always loved painting my nails different colors and crazy patterns since I was a little a kid, but didn't get in to intricate designs until after I graduated college. I couldn't find a job (sad face!) and had all this free time. I decided to try some designs and create a blog on tumblr, where I encountered some people with the same interests, and I have been posting ever since. Now it's so popular and I love seeing all the talented nail artists!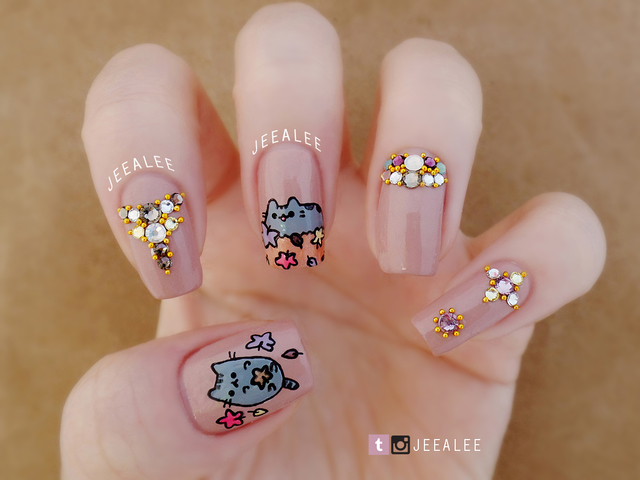 What inspires your designs?
Mostly movies and TV shows. It's fun incorporating themes and scenes, with the challenge being to create designs that fit onto my nails. My biggest inspiration is other nail artists. There are so many incredible nail artists and it's so exciting to see their work- I am always so amazed.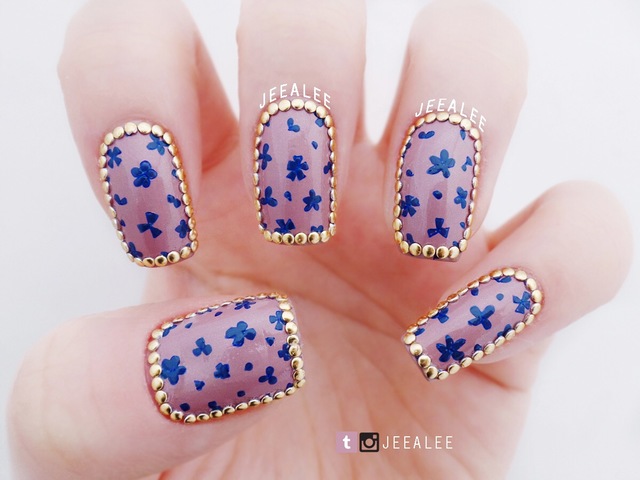 On average, how long do you spend on your nail designs?
They usually take about one and a half hours (including drying time), but a few designs that had a lot of bead work took over two hours.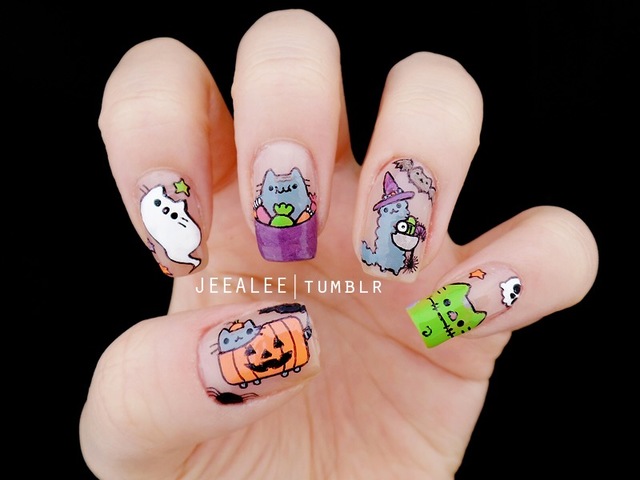 What is your favorite tool to use?
The dotting tool! I use that for everything- painting, filling in spaces, mixing polishes, cleaning up edges. It's the best multi-purpose tool.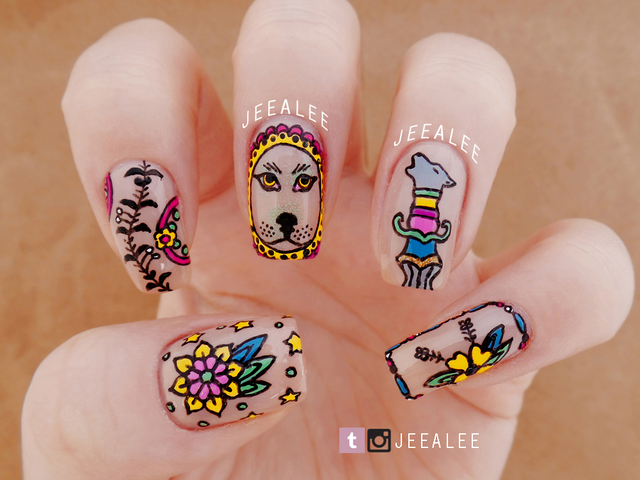 What do you love most about nail art?
It's such a great way to show creativity, whether it's subtle or really bold. It's body art that can be erased and redone at any time. It's also fashion that is for anyone, you don't have to have a certain style or be a certain size to have fashionable or trendy nails. It's for everyone!

What is your biggest challenge?
Thinking of what design to do next. I'm running out of ideas so I love when people message me on tumblr to suggest themes. They are the best!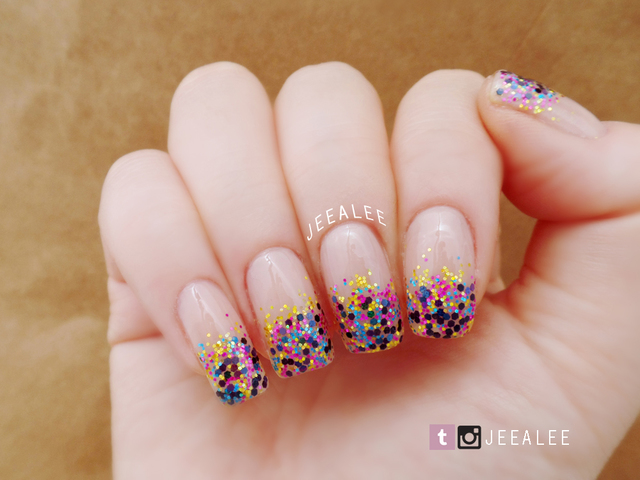 Do you have a favorite nail design?
I did these blue and white porcelain nails and it was my first time doing an intricate design. They are from ages ago, but still my favorite!

How do you normally wear your nails?
Whatever nail design I have posted most recently will be the designs I'll have on my nails. I erase and re-do them about once every two weeks and always post right after they're finished.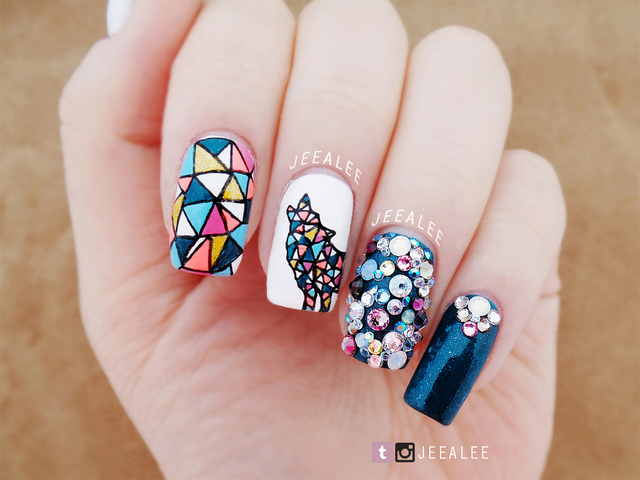 Are there any new trends or techniques you're looking forward to?
I would love to try the shattered glass nail art that is popular right now as well as chrome nails and negative space nails.

Favorite shades for fall?
Pinkish Nude. That shade looks good on everyone and is so warm and sophisticated (also less noticeable when chipped). I also love orange for fall so I'm looking forward to seeing everyone's Halloween and Thanksgiving nail designs.
What do you hope to see next for nail art?
Something that looks awesome, but is easy and affordable so that everyone can have great nails. I hope someday nail art printers will become more accessible. Then all nail art lovers can have their favorite designs and I'll finally have something detailed on my right hand!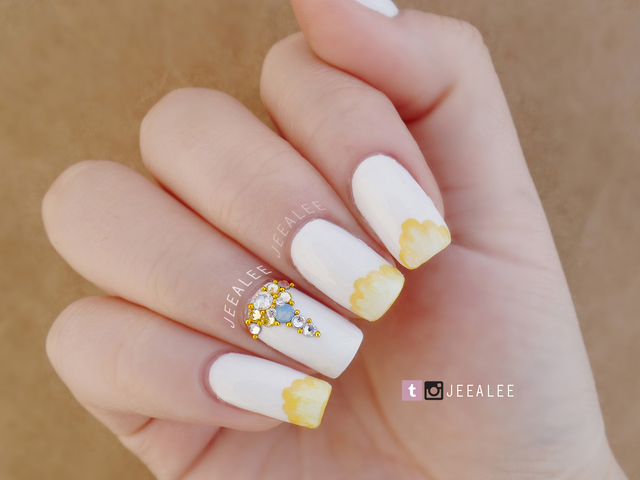 What is your go-to shade of the season?
Anything brown with glitter in it. A warm shade of brown that has a lot of sparkle would be perfect for a fall pedicure.

How do you perfect your nail art?
I thing it gets easier and smoother every time I do my nails. It also really helps to see other artists' amazing work and see how they create designs and what tools they use. I'm always learning something new from all the talented people out there. Maybe someday, with more practice, I'll be able to perfect my nail art!


---
Be sure to stalk Jeealee on Bangstyle to see her latest uploads and inspirations!