While most were eyeing that gorgeous gold Oscar, we were paying attention to the nails that grasped the award. There is something about having a beautiful manicure that makes you feel ready for any event and when it comes to the Academy Awards, your nails need to be Red Carpet ready!
As the most iconic and prestigious award show, the Oscars demand a different standard of elegance when it comes to wardrobe, hair, makeup and nails. More demure in nature, you want to show off the silhouette of the woman, not distract from it. You'll notice that this black tie affair is less about showing some skin and more about dressing the part. And the nails matched in every way.
With classic nudes, humble embellishments and mauve manicures, the nails were understatedly chic and high shine.
Hailee Steinfeld chose a rose gold metallic to match the pale pinks and subtle lavender of her floral gown. This choice complimented her feminine feel.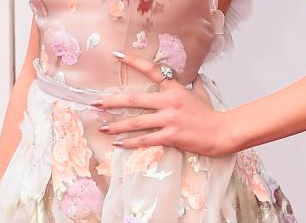 Priyana Chopra stunned us with her white geometric design and had the simple white manicure to match. This pop of color on her gorgeous skin tone only added to the contrast of her overall look.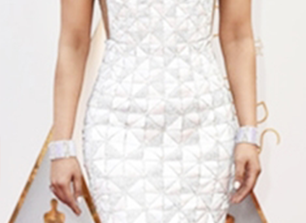 As a standout star, Janelle Monáe's nails had all the glitz and glamour wrapped up in nail design. With a mauve base color and accents of gold foil, her color combination was a winner!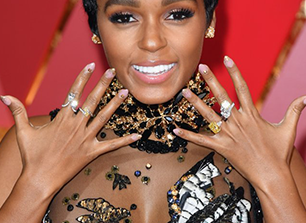 Dakota Johnson kept it nude, channeling her latest role perhaps? This 50 Shades Star presented with her co-star Jamie Dornan in the buff, and while it was a little awkward, we loved it!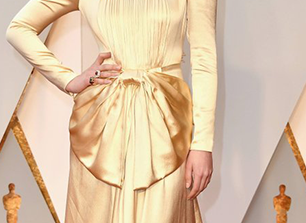 Ruth Negga was matchy-matchy with her deep red nails to match her stunning lip and eye hues, ruby colored ring and headband. Overall this deep red combination was a great combination with her true red dress.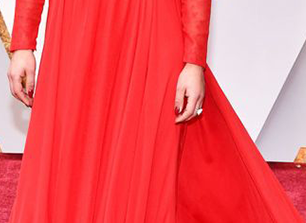 For more Red Carpet ready nail styles, be sure to check out our latest inspiration from our favorite celebs!