Post courtesy of: NAIL IT! MAG
This year's Olympics may have experienced more controversy than Britney Spears circa 2007, but there's one thing it's done right and that is showcase incredible athletes who happen to be rocking fabulous manis. Read on to see the beautiful gallery Nail It Mag dedicated to the gold, silver and bronze winning nail art of the 2016 Rio Olympics.
Although this year's Olympics may be rife with sexism, but that doesn't mean it should be the defining characteristic of the games. The Rio Olympics has brought amazing female athletes such as Simone Biles, Corey Cogdell, Dana Vollmer and a slew of other talents to the forefront of international media; athlete's whose success sheds light on the progress we've made as a collective society, as well as the journey we have yet to undertake.
While nothing could overshadow their athletic accomplishments, we wanted to shine a spotlight on the nail art that should be in and of itself an Olympic game! These ladies are not only bringin' some fierce athletic game, they're rockin' a fierce mani game that is giving sports a run for its money. Below, check out a gallery of Olympic nail art designs that deserve their own medal of excellence.
---
Tamires Cássia Dias Gomes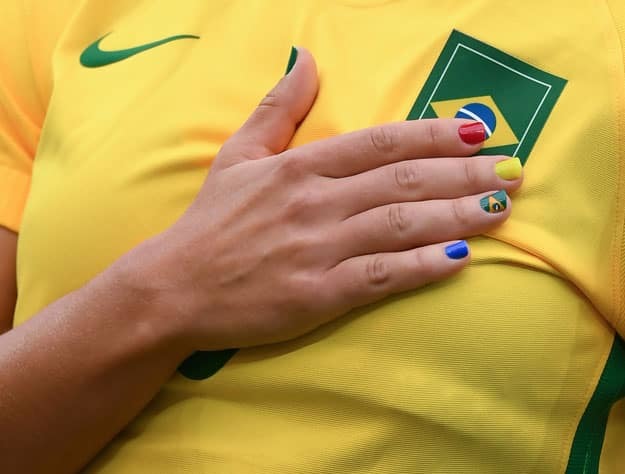 Tamires Cassias Dias Gomes, Brazil soccer team, at the Rio 2016 Olympics. Photo by Stephen McCarthy/Sportsfile via Getty Images.
Brazilian soccer player, Tamires Cassia Dias Gomes, sported a beautiful nail art design inspired by her country's flag. We absolutely love the accent nail and play on colors!
Heather Bansley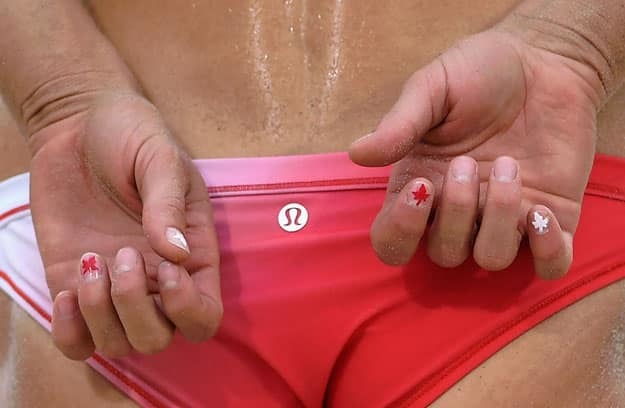 Heather Bansley, Canada Beach Volleyball athlete, at the Rio 2016 Olympics. Photo by Shaun Botterill/Getty Images.
Canadian beach volleyball athlete, Heather Bansley, shows some national pride with these red and white maple leafs and a love for negative space nail designs.
Manika Batra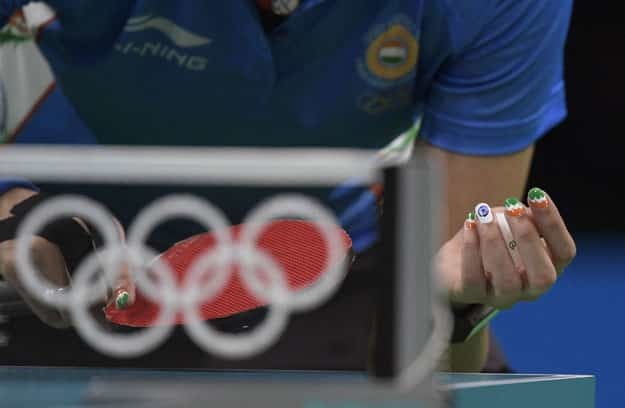 Manika Batra of India's Table Tennis team at the Rio 2016 Olympics. Photo Credit: Juan Mabromata/AFP/Getty Images.
Indian's table tennis star, Manika Batra, wears her flag on her fingers during the singles qualifications round of the 2016 Olympics.
Saskia Loretta van Erven Garcia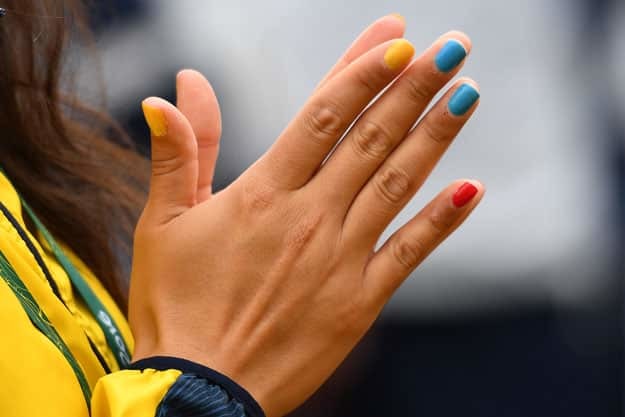 Colombian Fencer, Saskia Loretta van Erven Garcia, at the Rio 2016 Olympics. Photo Credit: Andrej Isakovic/AFP/Getty Images.
Colombian fencer, Saskia Loretta van Erven Garcia, sports her national flag's colors during the welcoming ceremony of the Colombian Olympics team.
Madison Kocian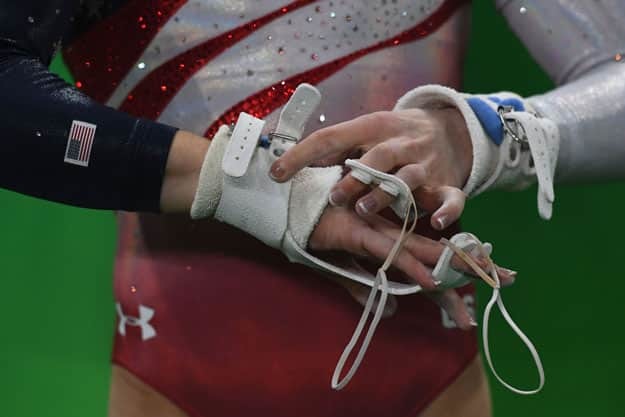 US Gymnasty Madison Kocian at the Rio 2016 Olympics. Photo Credit: Ben Stansall/AFP/Getty Images.
US gymnast Madison Kocian knows nothing beats a good classic as she sports a set of crisp, chic French tips.
Serena Williams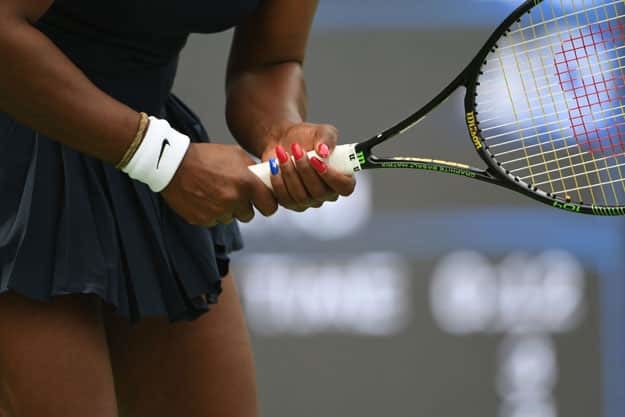 US Tennis player Serena Williams at the Rio 2016 Olympics. Photo Credit: Roberto Schmidt/AFP/Getty Images.
Ever the trendsetter, Serena Williams slays it with an American flag-inspired accent manicure. Drawing inspiration from nail artists before her, she knows that sometimes all you need to make a powerful statement is a great accent nail.
Monica Puig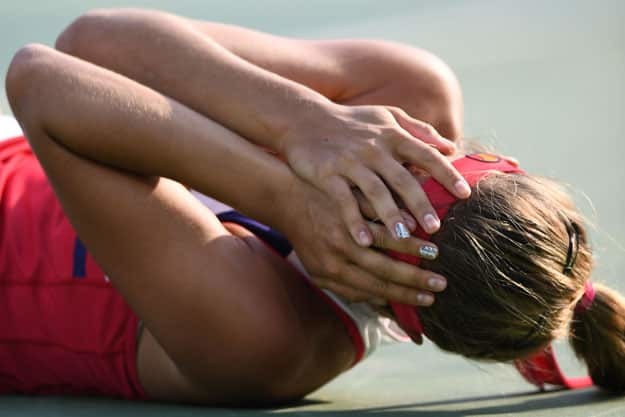 Monica Puig of the Puerto Rican Tennis team at the Rio 2016 Olympics. Photo Credit: Martin Bernetti/AFP/Getty Image
Puerto Rican tennis player Monica Puig celebrates her third round-win and on-trend nail art.
Simone Biles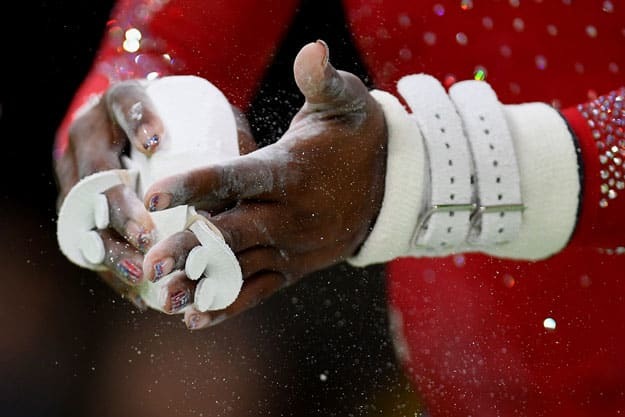 Simone Biles, US Gymnast, at the Rio 2016 Olympics. Photo by Laurence Griffiths/Getty Images.
In one of our favorite nail art designs of the Olympics, US gymnast Simone Biles wears the stars and stripes in a manicure that combines a French tip and accent nail. Ooh la la!
Montenegrin Handball Team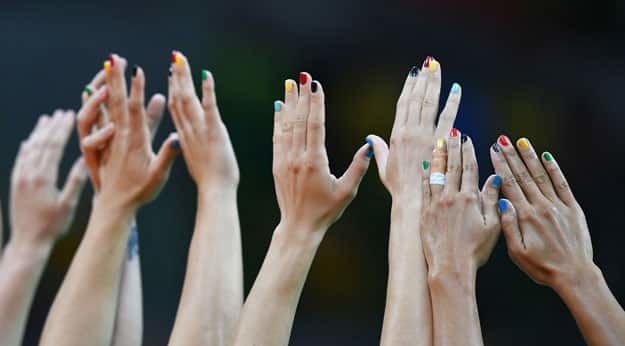 Montenegrin Handball team vs. Spain at the Rio 2016 Olympics. Photo Credit: Franck Fife/AFP/Getty Images.
Wearing the colors of the Olympic rings, the Montenegrin Handball team's collective nail art photo is heart-warming and goes to show that nail art knows no borders!
Congratulations to the athletes who participated in this year's Olympics! We're so proud of you and your achievements; keep rocking that nail art!
Which Olympic nail design was your favorite? Be sure to check out NAILITMAG.com as they update the amazing nail art and follow along on social for their latest updates! @NailItMag