Post courtesy of NailItMag!
Aussie actress Margot Robbie rocked a killer set of 'EVIL' nails at the red carpet premiere of Suicide Squad and we can't seem to get enough! The look was created by celebrity manicurist Elle. She shared with us all the details of the look and how to recreate it for yourself!
---
After much anticipation we were so excited when Suicide Squad was finally released! At the premiere the ever-talented Margot Robbie, aka the #badass, not-to-mention crazy Harley Quinn, rocked a killer set of nails with the word 'EVIL', a design created by Elle (@enamelle).
The nail design, created with RCM lacquer, was minimalist and clean with the word "EVIL" painted across each nail of Robbie's left hand in bold black lettering. See a close-up of the nail art below.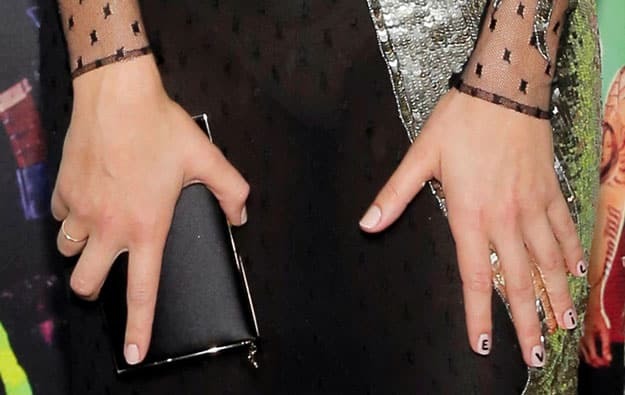 This look comes just in time for Halloween because as nail artists around the world know, planning for one of the most festive holidays of the year begins months in advance. If you love this nail design as much as we do, breathe a sigh of relief knowing that Elle gave our readers the lowdown on how to recreate this statement-making artwork at home using both lacquer and gel polish. Keep reading for step-by-step instructions!
With Laquer:
STEP 1
Prep the nail by filing, shaping and applying a base coat.
STEP 2
Layer "My Secret Admirer" Nail Lacquer over "Simply Adorable" Nail Lacquer.
STEP 3
Using a fine tipped brush like one from RCM's Nail Art Tool Kit write 'EVIL' across your nails (starting with the pointer finger and ending with the pinky) with a jet black polish like "Black Stretch Limo".
STEP 4
Seal the look with a top coat.
With Gel:
STEP 1
Begin the manicure by filing nails into the desired shape.
STEP 2
Clean nail beds with RCM Purify and RCM Prep to prepare nails for a gel manicure.
STEP 3
Apply a thin coat of RCM Structure Base Coat and cure each hand for 45 seconds in the RCM Pro 45 Light.
STEP 4
Apply a thin coat of RCM Gel Polish in "Simply Adorable" and cure for 45 seconds; repeat with second coat.
STEP 5
Using a fin tip brush from RCM's Nail Art Tool Kit, write 'EVIL' across the nails with RCM "Black Stretch Limo"; start with the pointer finger and end with the pinky on each hand.
STEP 6
For a glossy finish, seal the design with a coat of RCM Brilliance Top Coat and a coat of RCM Revitalize Cuticle Oil.
Margot Robbie has been wowing the fashion world left and right with her unconventional stylistic choices that work.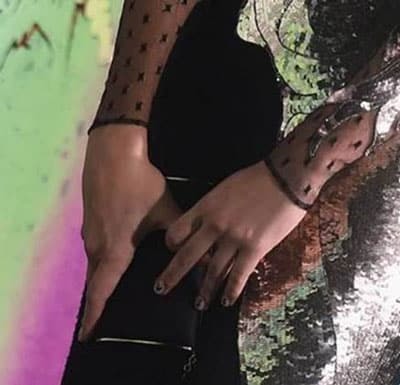 Will you be watching Margot Robbie take on the role of Harley Quinn inSuicide Squad?
Images and step-by-step instructions courtesy of ShopPR.
---
Be sure to check out NailItMag for even more tutorials and inspirations!