Post Courtesy Of: Nail It Magazine
As we say goodbye to 2017, it's time to also let go of some of the year's most coveted nail styles and welcome a fresh batch of tip trends. Luckily for us polish aficionados, there's no shortage of inspiration out there; many A-listers have already laid the groundwork for the year ahead by testing out bold designs, both on and off the red carpet. Check out the looks below that we've rounded up of the top celebrity looks that peaked our interest over the past year to help you step up your nail game in 2017.
---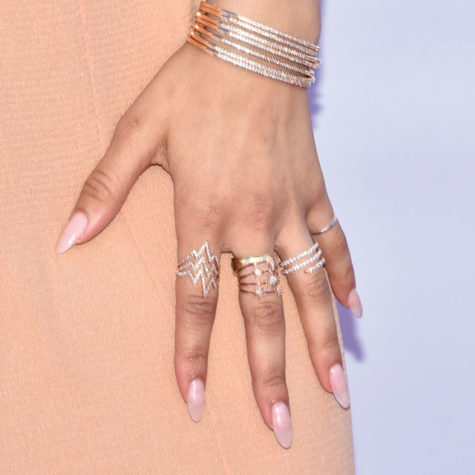 Resolution #1: Embrace that oldie-but-goodie nail shape.
From Khloé Kardashian to Zendaya, celebs proved that 2016 was the year of coffin tips. And it's no wonder: Unlike the square nails of years' past, the lengthy, tapered style elongates fingers and flatters most nail beds. While the trendy "ballerina" shape may stick around a little longer, most celeb manicurists predict a return to oval and almond styles in the near future. A-list manicurist Gina Eppolito says the key to mastering the curved shape is to use a flatter file. "Taper the edges, starting with the file close to the middle edge of the nail," she says. "Think deep 'V,' except, instead of leaving a point at the end, gently graze each side of the nail into a soft oval or almond shape."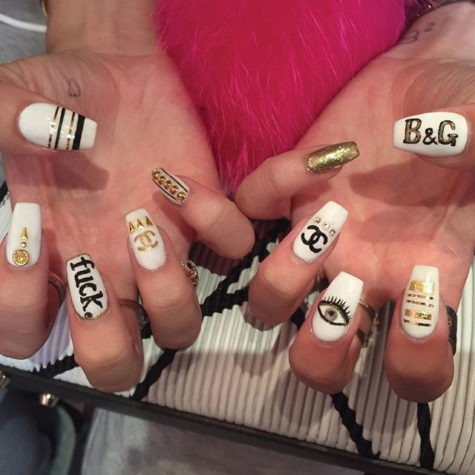 Resolution #2: Say it with nail art!
Thanks to a new array of easy-to-use stamping kits, celebs have started to give their manis a dose of text appeal. Case in point: Teen queen Bella Thorne solidified her then romance with actor Gregg Sulkin by giving a subtle shout-out to haters. She uploaded a photo to Instagram of her white-and-gold mani boasting "B & G" lettering and a not-so-kid-friendly expletive. this year, vow to keep your mani message crystal clear with alphabet and emoji stamping plates.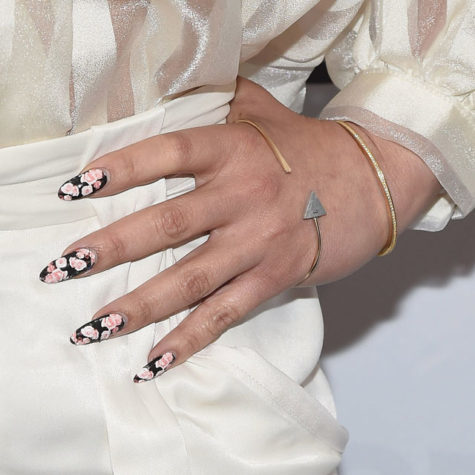 Resolution #3: Freshen up your florals.
With gray skies and freezing temps outside, flowery tips may be the last thing on your mind, but a posy pattern is actually a perfect way to brighten up your nail wardrobe. "Orange Is The New Black" actress Dascha Polanco gave polish aficionados a fresh take on florals when she donned a set of black and pink rose talons to an NFL event last January. The contrast of the blush flowers on the stark ebony backdrop provided major drama and gave the usually feminine design a modern edge. Follow Polanco's lead by applying bold floral nail tattoos or decals on top of a sleek, matte shade.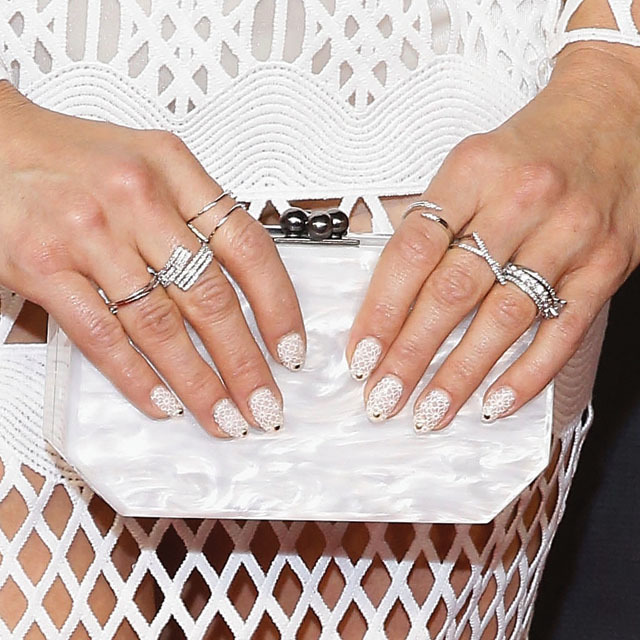 Resolution #4: Be transparent.
Negative space nail art is constantly evolving; one minute everyone's sporting naked half moons, the next, plain nails with a single line of color are all the rage. "Fight Song" singer Rachel Platten ay have unintentionally sparked the next must-have see-through style when she debuted a lattice mani to match her cutout dress at the 2016 Logo Trailblazer Honors. Her patterned digits looked anything but bare, but the geometric design still allowed Platten's natural nails to shine through. Try your hand at the flirty peekaboo look with transparent nail wraps over naked tips.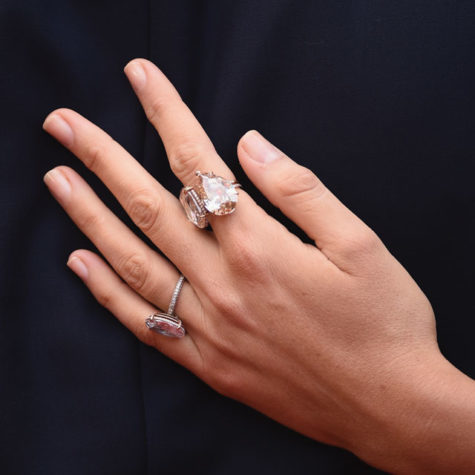 Resolution #5: Step up your nail care routine.
No matter what trends may come and go, healthy natural nails are always in, as evidenced by the plethora of nearly naked tips spotted during this year's red carpet season. A-list manicurist Elle, who has transformed the nails of Hollywood's finest, including Blake Lively, Julia Louis-Dreyfus and Jennifer Lopez, uses nail care products to whip her clients' nails into shape. "I advise my clients to start using a nail growth supplement and cuticle oil," she says. This year, go beyond your standard hand lotion and cuticle oil regime with an ultra-nourishing overnight treatment and a biotin-enriched daily vitamin.
— Taylor Foley
Stay tuned for even more nail trends and tutorials and be sure to check out NailItMag.com for even more inspiration, follow them on Instagram @NailItMag and tag them with #NailItDaily with your art!
---
[Images: John Shearer/Getty Images; bellathorne/Instagram; Gary Gershoff/WireImage; Lamparski/WireImage; Ian Gavan/Getty Images]