We are so excited to announce the first ever Nailstyle Tops Winner, Paige E. Roy. As a nail artist Paige often heard about the Bangstyle Supremes competition and when Nailstyle started she couldn't help but join in on the competition! You have probably seen all of her amazing designs, but take a peek at her profile, here, and get to know more about Paige below! You are sure to be inspired by her aesthetic and originality in nail design!
---
Can you tell us a little more about you and your background in nail art?
I've always bitten my nails, so I would often dream of having nice, long nails. I took the Nail Tech program at Blanche MacDonald and there was a small nail art section. It was obviously my favorite and I took it very seriously. The Nail art final exam was my most stressful moment during that course haha. I did acrylic figures from Alice in Wonderland over a glitter ombre base and I'm still very proud of it.
How did you get started?
Nail art started for me with my mom showing me how to make a few basic designs on my nails with toothpicks! She's very creative and crafty.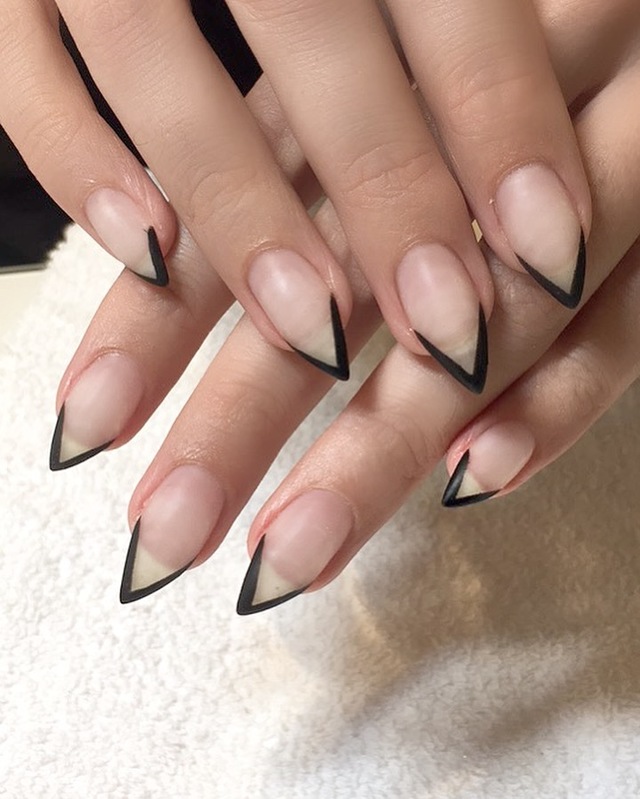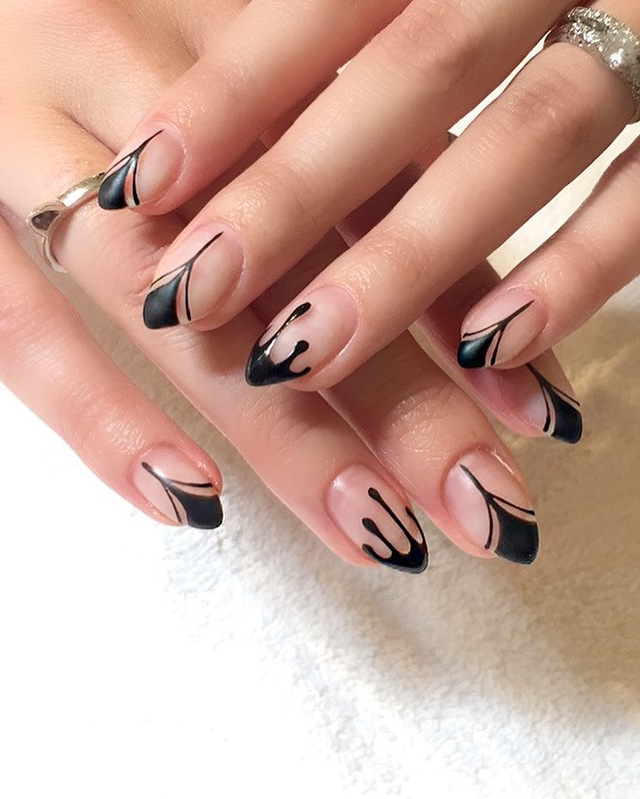 How does it feel to win The Tops?
It's surreal to be the Tops winner. I know how big the Bangstyle competition is because I've been working in salons a lot over the years, so being part of the new Nailstyle is amazing and everyone working behind it has been so kind and supportive which makes it mean so much more.
What is your favorite part about being a nail artist?
My favorite part about being a Nail Artist is when I have a client who's really excited and comes in with a crazy idea they've made up and I get to interpret it into nail art and put it on their fingers for them.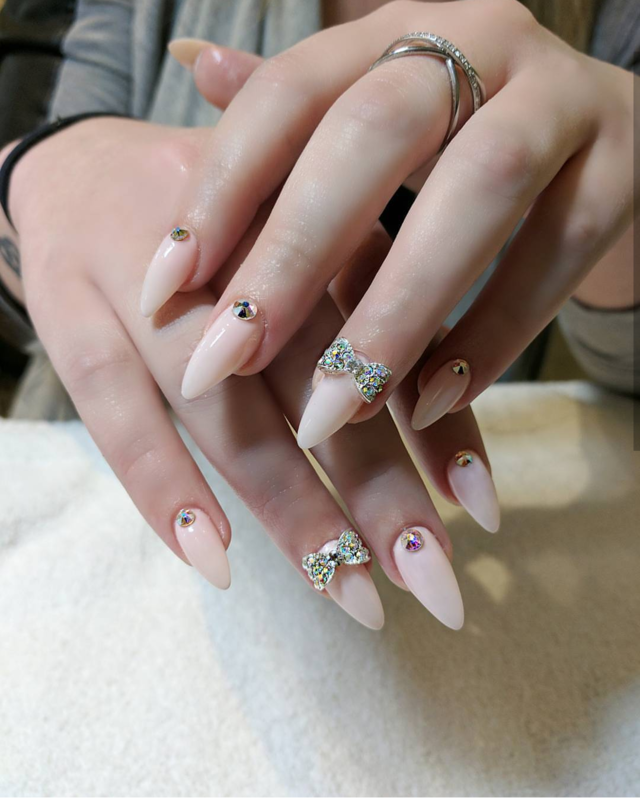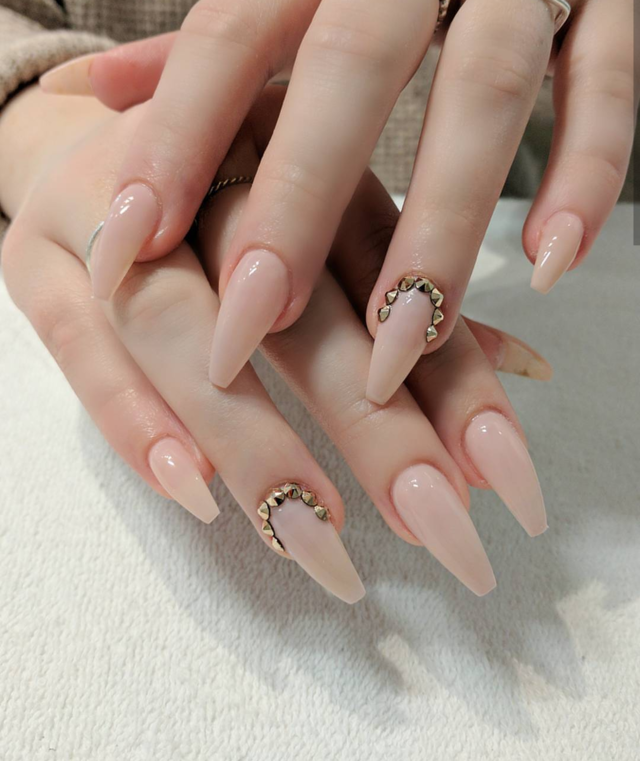 Where does the inspiration for your designs come from?
My inspiration is always nature. When I'm creating sets at home I will almost always have some sort of nature documentary on in the background.
What is your favorite nail shape of the season?
After about a year of doing only coffin style enhancements, I'm all about the oval nails right now! They are so feminine and flattering.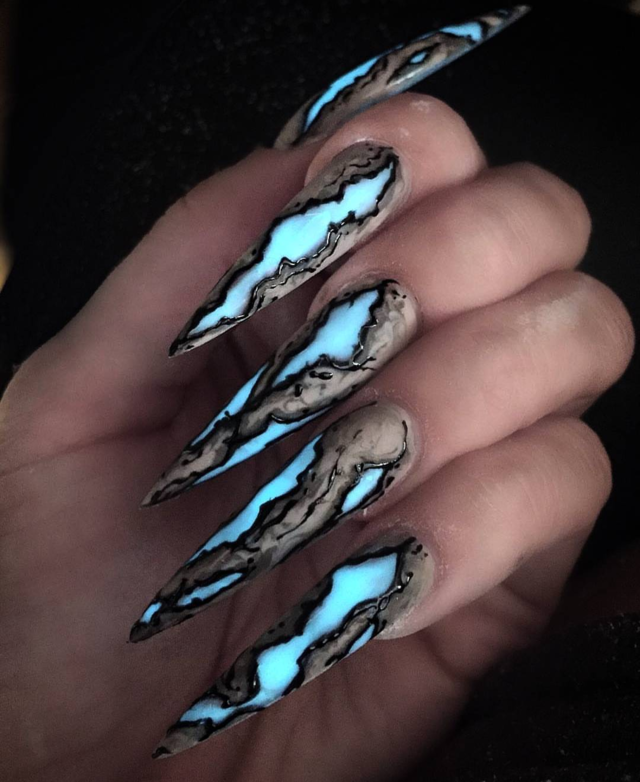 What colors or nail trends do you think we'll see this Spring?
I feel that this spring we will step slightly away from Nude and switch to light pinks. A very "fresh" styling and back to more Gloss finish than matte.
When going on a trip, what do you take with you for your nails
I'm always blinged out for a trip, so I always have to bring glue and extra Swarovski's with me and of course I bring cuticle oil!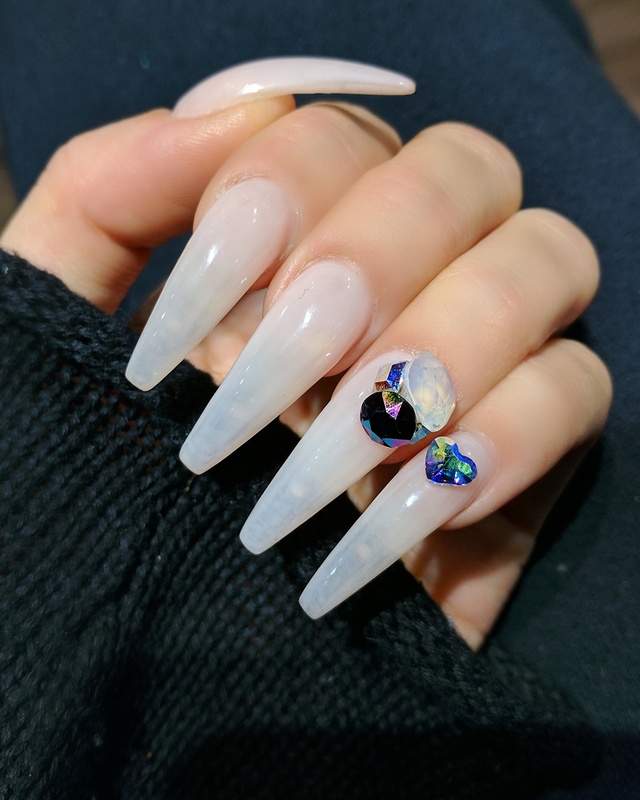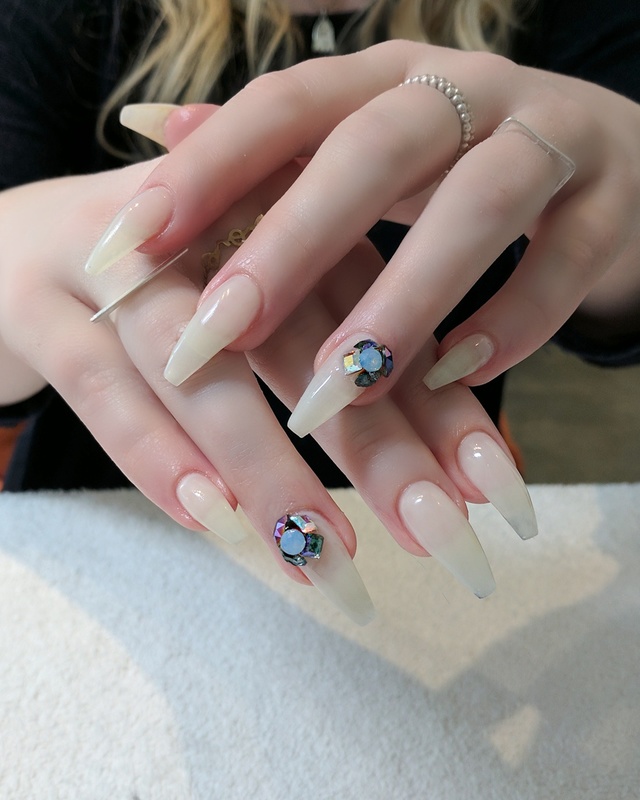 What is your all time, go-to color?
My go to color is Black. My favorite black gel polish is Ugly Duckling brand from Victoria, BC. I also love leaving my enhancements clear so I can pretend they are my real nails!
What's your favorite nail shape to wear?
My favorite nail shape to wear is Stilettos but recently I've been loving a this Almond shape.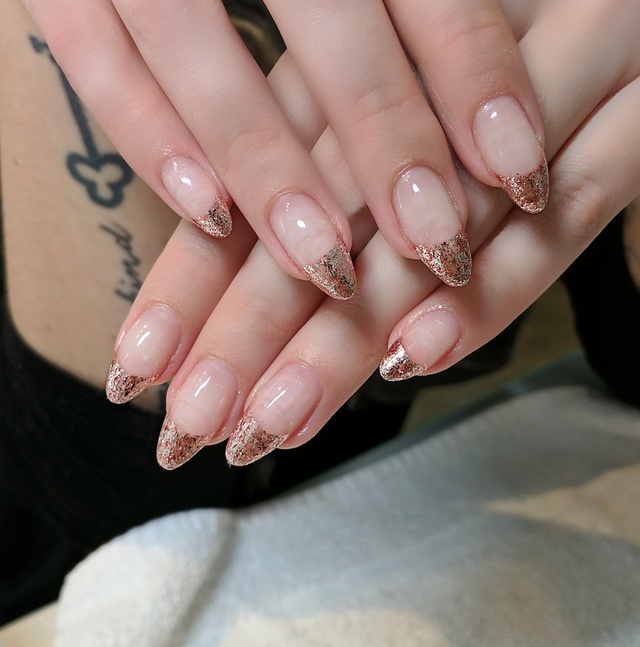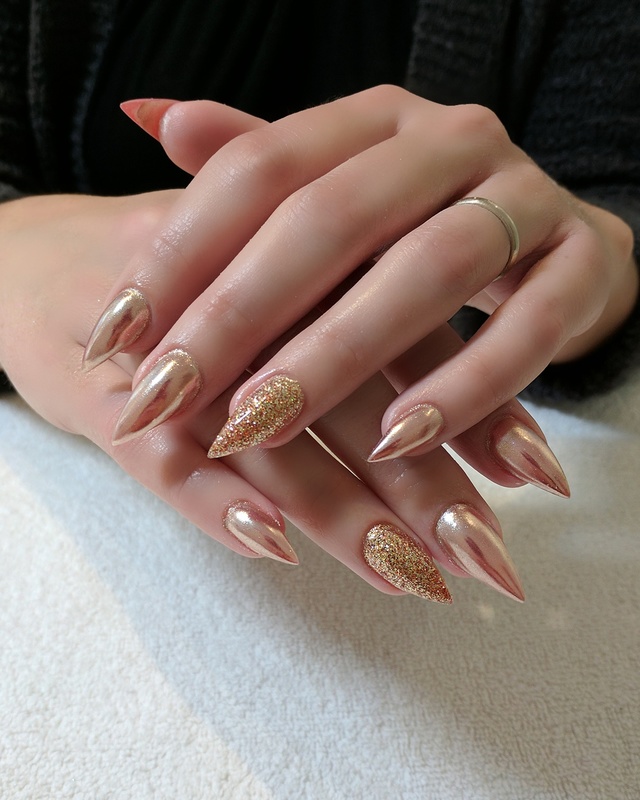 Favorite style of nail art to create?
My favorite style of nail art to create is just like designs when I have free reign to do any kind of design I want. Also glitter. Of course!
What is the one product/tool that you can't live without?
There are so many tools I feel I couldn't live without! My Atwood E-File Bit is a lifesaver and my gel brush and art brushes are like my children haha.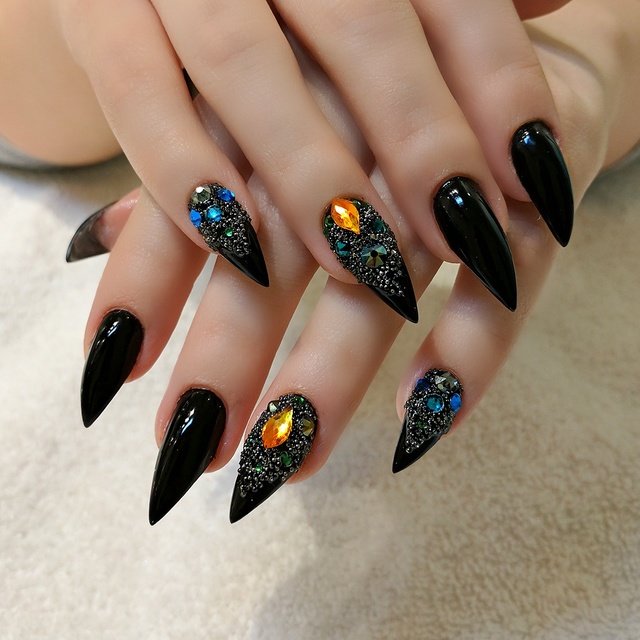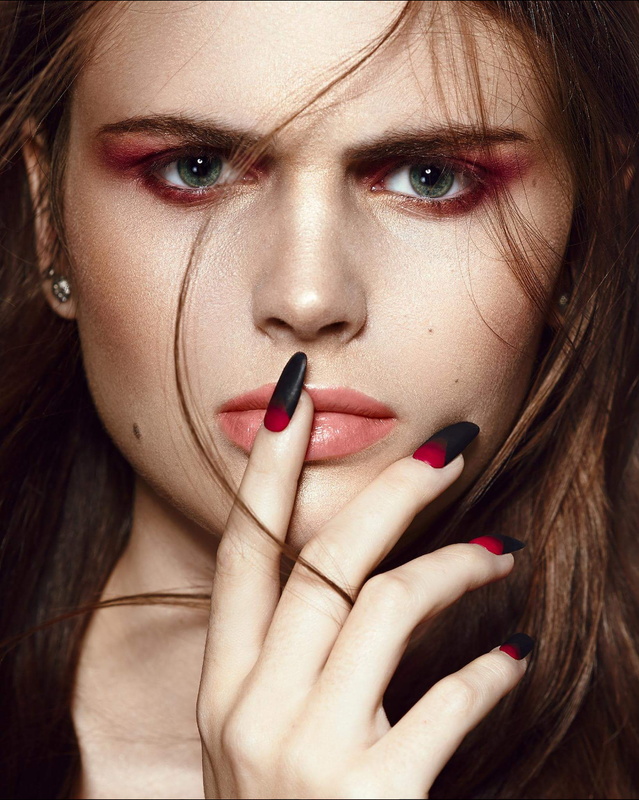 If you weren't doing nail art, you would be…
If I want doing nail art I would be doing makeup artistry. That's what I originally started in the industry with. Before that I was deciding between childcare or the sciences.
If you had a superpower, what would it be?
If I had a super power it would be invisibility. I would love to just wander around wherever I wanted undetected.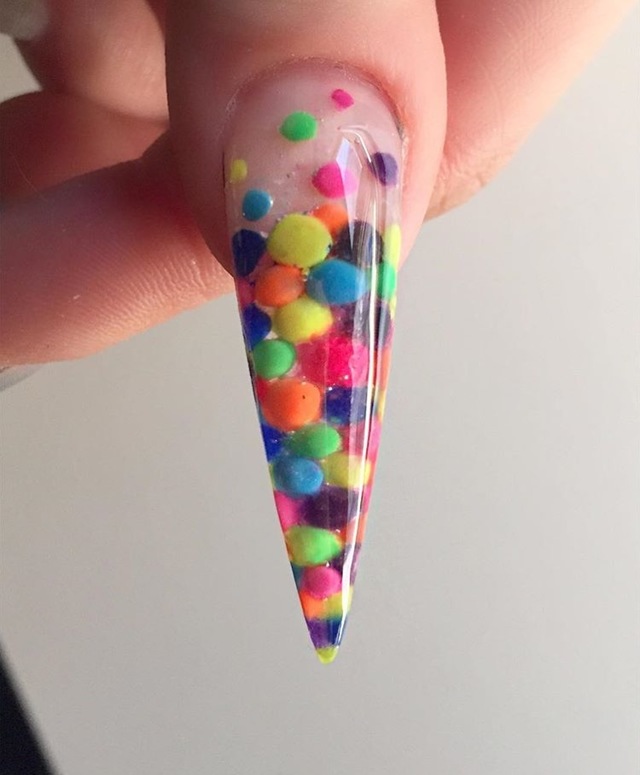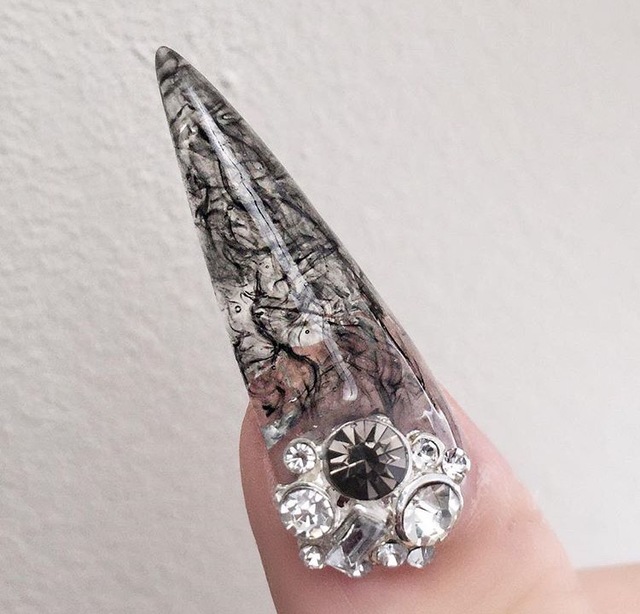 What is your favorite nail design you've created?
My favorite nail design I've created is something I've been thinking about for a year now, it came out amazing but I can't share it yet because it is a recent contest entry and had to remain a secret until I find out if I made it in or not!
How often do you treat yourself to someone else doing your nails?
I have not had anyone else do my nails since school, I love doing my own and doing whatever I want on them. There are a few Tech's that are on the bucket list to go see so hopefully some traveling will happen soon!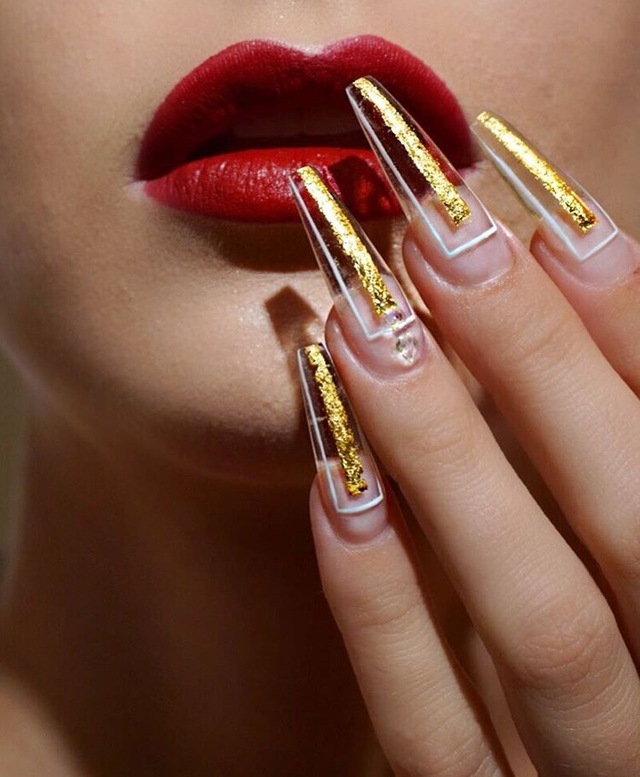 Favorite thing to work with? Lacquer, Gel or Acrylic?
My favorite thing to work with by far is Gel. I don't touch acrylic and I only use lacquer in my toes!
Wildest nail design you've ever been asked to create?
The widest thing I've been asked to create is the Rolling Stones logo on someone's toe when I was starting out. It turned out great!
---
For even more inspiration, be sure to check out Paige E. Roy on Bangstyle to see all of her latest uploads!