Veganism is a growing trend not just for dietary means but lifestyle as well. As a growing trend in beauty, vegan, cruelty free products made with only the best organic ingredients are growing in popularity as well. Whether you already have a favorite brand or are looking to expand your collection; here are six vegan brands you need to know.
As more people become conscious of the world around them, habits begin to change. What was once universally accepted as truth is now starting to face some pushback from a rapidly growing movement: veganism. To be a vegan nail polish aficionado, you don't have to be vegan! You just have to have an innate appreciation for all things beautiful, colorful and nail-related. If you can tick off those boxes, you'll be jiving with cruelty free brands in no time.
If you're looking to incorporate more vegan nail polishes into your arsenal, look no further than these six beauty brands. Follow along below for a brief overview of each brand and their latest collection.
1. BOii Cosmetics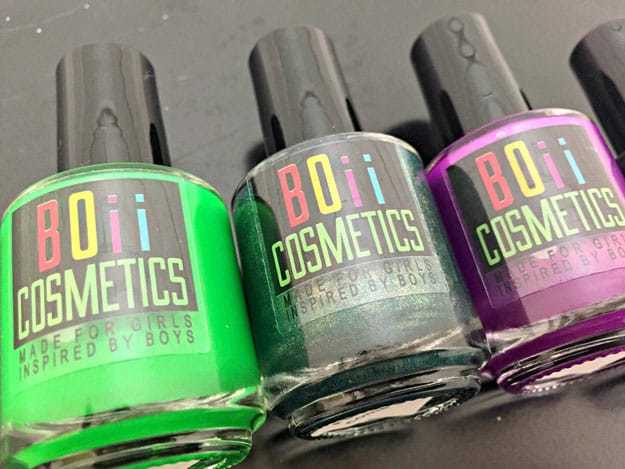 Started by two sisters, BOii Cosmetics is made for girls and inspired by boys.
BOii Cosmetics was created in 2012 as a passion project shared by two sisters who found out their true passion was creating cruelty free, non-toxic nail polish. Since their humble beginnings, BOii Cosmetics has expanded to include over 365 nail polishes such as flakies, glitter, holo and nail stamping (you can wear a different one every day of the year!), as well as several lipsticks and eyeshadows.
We are so impressed with the pigmentation and finish! Whether you're a veteran nail artist or still working with bobby pins as your tools, you'll love the quality of BOii Cosmetics polishes.
In addition to creating safe products, BOii Cosmetics also donates a portion of their profits to charities such as St. Jude Hospital and Faith Deliverance Church.
Visit BOii Cosmetics here.
2. Cult Cosmetics
Join the cult; try their nail polish!
First and foremost, I am in love with this brand's Sunset Blvd. Nail Polish! Unlike other brands, when this brand says that you can achieve full coverage in one swipe they're not joking. The first time I tried their polishes, I did so without a base coat (don't judge me!) and was able to achieve a highly-pigmented, durable finish in two swipes. I was so impressed at the color coverage of this polish that I found myself sneaking glances at my nails every five minutes or so. In fact, I'm still sneaking glances at them but can you blame me when it feels like I'm wearing C3PO on my nails?
Back to the brand. Cult Cosmetics, a Southern California-based company, has continuously wowed fans with their incredible products. While the site no longer exists, you can still purchase their lacquers on Amazon!
3. Trust Fund Beauty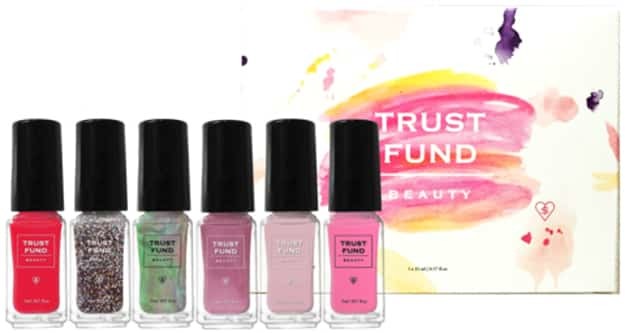 Trust Fund Beauty is the ultimate #coolgirl beauty brand. The brainchild of Samara Granofsky, Trust Fund Beauty was created as a response to the damage chemotherapy was inflicting on Samara's mom's nails. In order to find a fun, environmentally sustainable solution to her mom's brittle, yellow nails, Samara set off to create a line of non-GMO and cruelty free, vegan nail polishes that soon expanded into a line of lush lipsticks and lip glosses.
The brand's latest makeup collection was designed to complement their existing nail lines and features products in both matte and glossy finishes. If this brand is good enough for Khloe Kardashian, then it's good enough for us!
One look at the site and we promise you'll fall in love.
4. JINsoon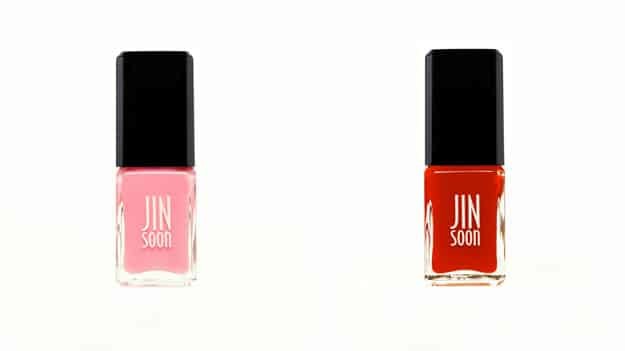 JINsoon's Balsam Collection is every bit as romantic as we hoped it would be!
The genius nail tech behind Jin Soon, Jin Soon Choi, has been a nail industry professional since the early '90s. However, it wasn't until 2012 that Jin Soon decided to release her eponymous nail lacquer collection. Since that initial debut, it's only been uphill progression for the JINsoon brand as they continue their world domination with beautiful vegan, cruelty free nail polishes that continuously outperform and outshine all others.
The brand has just recently released their Summer 2016 line called the Rose Balsam Collection. Inspired by Balsam flowers, the line features two exquisite colors: Blush, a soft sheer pink, and Crush, a sheer orange.
Visit the JINsoon site here.
5. Hard Candy
This collection is for our '90s babies!
Remember those fun plastic rings we loved hoarding in the '90s? Don't be coy; you know exactly which ones we're referring to. Hard Candy, one of our favorite vegan nail polish brands, has just released a new collection of polishes that each come with their own collectible ring! Let your fingers do the talking with one of their cruelty free polish colors and rings to match!
Hard Candy started in 1995 and found instant success when Alicia Silverstone was asked during an interview what her nail polish color was and, lo and behold, it was "It's Sky" by Hard Candy. The brand prides themselves on the quality of their products that don't include animal testing and are formulated with non-toxic ingredients.
See their new collection here.
6. Obsessive Compulsive Cosmetics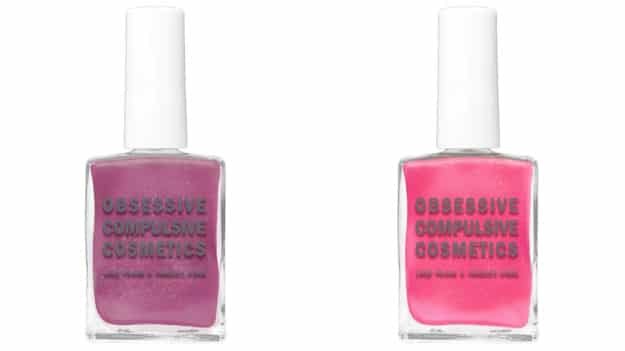 One swipe and you'll be obsessed with this brand!
Obsessive Compulsive Cosmetics is a brand whose cult following rivals that of The Big Lebowski's. That is to say that when people find this brand, they fall for it hard and we can't blame them. With their continuous release of fun nail lacquer colors, OCC is one cruelty free beauty brand that's anything but subtle. In fact, their motto is the louder, the better.
If you love incorporating fantastical colors into your designs, you're going to want to take a look at the OCC site here.
Which cruelty free beauty brands are your favorites? Share them with us in the comments below or on Facebook!
[Images courtesy of Trust Fund Beauty; BPCM; DNA Publicity; Melody Joy PR]
This post courtesy of NailItMag.com
---
For more nail info and design tips, be sure to visit NailItMag.com and follow them on Instagram for their latest uploads!