Post Courtesy Of NailItMag.com
Winter white might be our favorite version of the color. It reminds of of snow, winter time activities, hot chocolate and fireplaces surrounded by our favorite people. In this tutorial featured on NailItMagazine.com Laura Minetti. Based in Latina, Italy, Minetti has has created a nail design with an elegant touch perfect for parties, festivities or weddings. We think it is the perfect pairing for a cozy knit sweater, egg nog, and a bit of yuletide charm. Check out the steps to get the look below.
Supplies Needed:
Kiko 3 in 1 Matte Base
Pupa Lasting Color in Sheer White
Barry M Silk Nail Paint in Pearl
Barry M Royal Glitter Collection in Lady (sparkling glitter nail polish that looks like snow)
Barry M Royal Glitter Collection in Duchess (sparkling glitter rose/pink undertone with silver glitter)
Makeup Sponge
Striping thin brush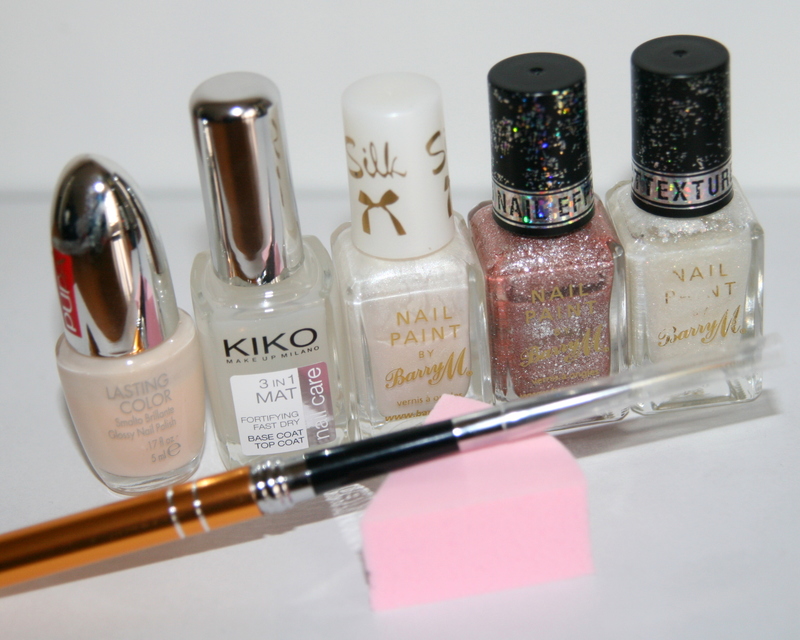 STEP 1:
After using a clear base for all of your nails, start by painting your index and ring finger with Pupa Lasting Color in Sheer White. Paint the other three nails with the Barry M Silk Nail Paint in Pearl. This particular polish has a beautiful silk sheen, the white is pearlescent and almost matte. You can achieve a similar effect with an iridescent white and a matte top coat.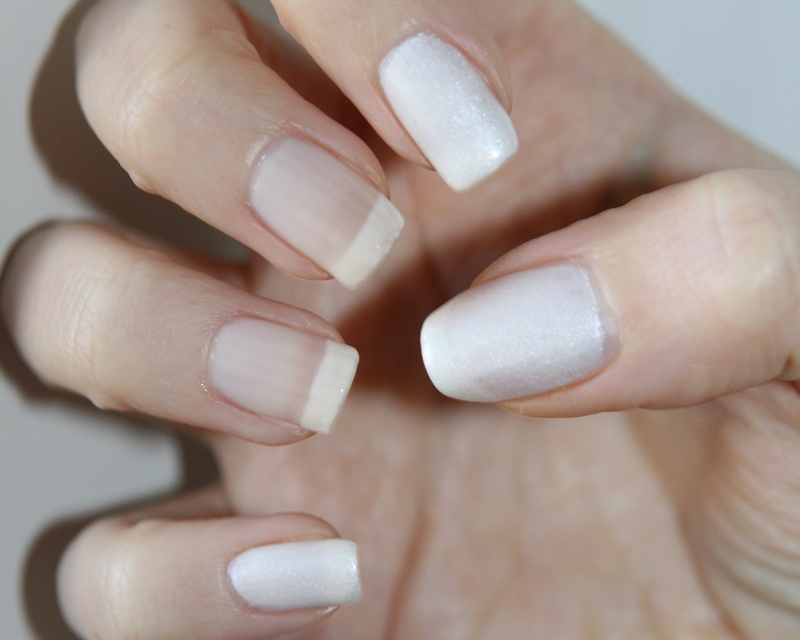 STEP 2:
After the base color is dry, apply a mix of Barry M Royal Glitter polish in Lady and Duchess on the corner of a makeup sponge. Dab the sponge from the cuticle area to the free edge. Repeat this step until you create a delicate gradient effect.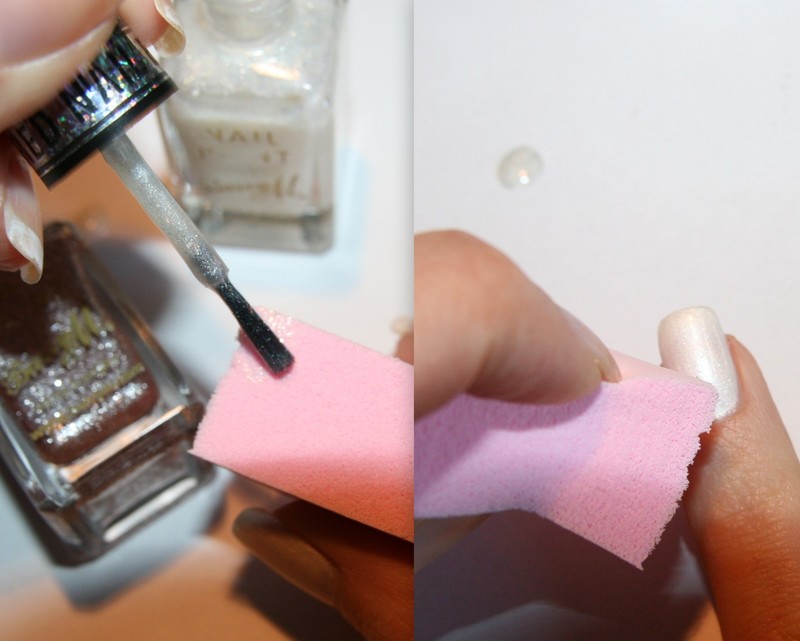 STEP 3:
Now it's time for the feather design! With a striping brush and a white nail polish draw a simple curved line from the cuticle to the tip.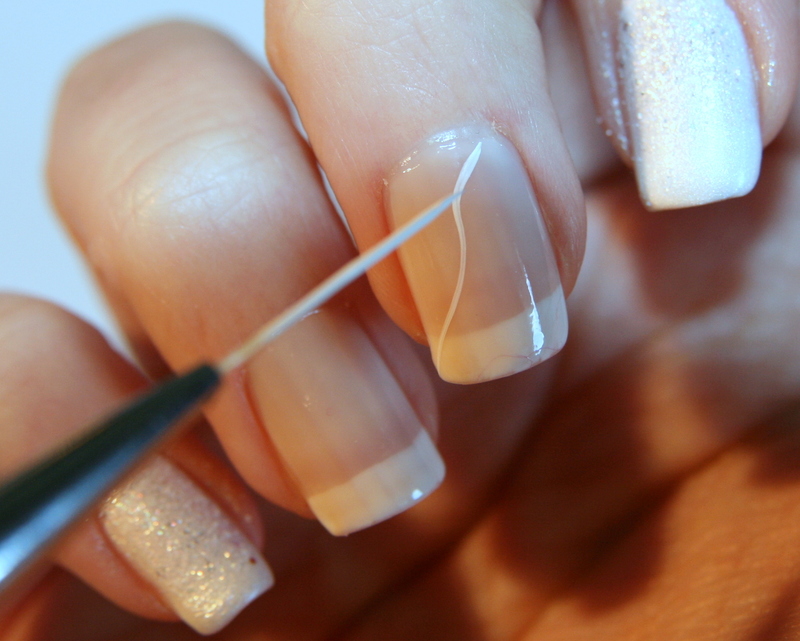 STEP 4:
Start building the shape of the feather with some light strokes on each side of the line. You don't have to be too precise. Fill the gaps to create a feather-like effect. Repeat the design on the ring finger and you can vary the position of the feather as you like.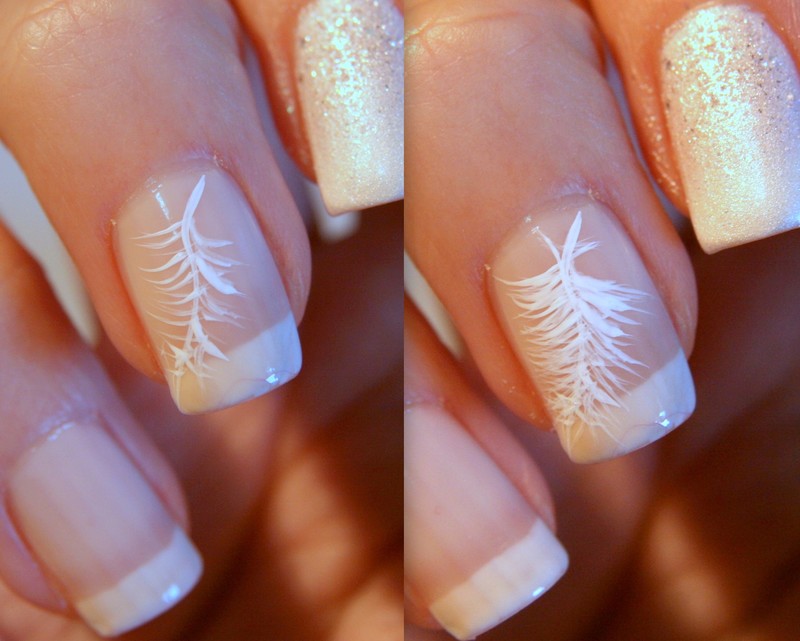 STEP 5:
To enhance the design, use the Barry M Royal Glitter polish in Duchess and place it along the shaft of the feather. Don't forget to seal your design with a top coat!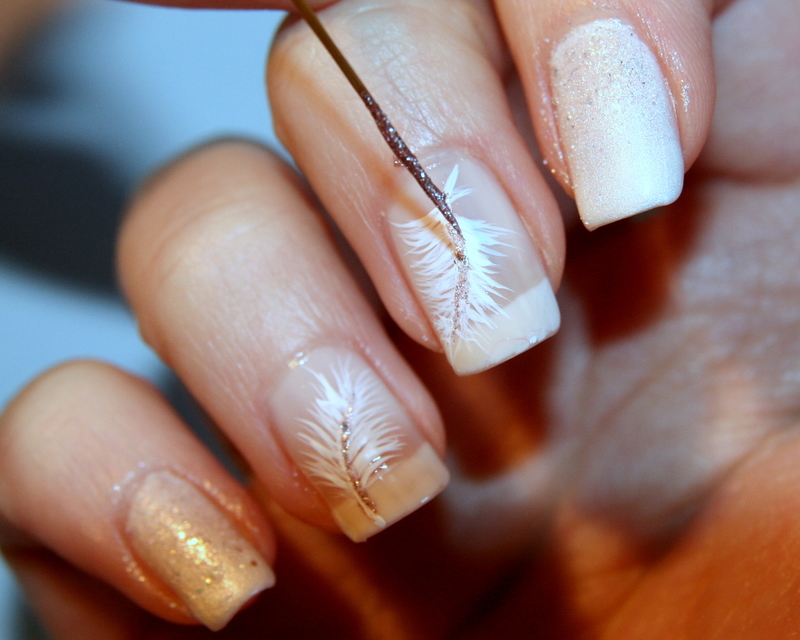 Be sure to check out more of Laura Minetti's work here:
Facebook: facebook.com/lauraspillsnailart
Instagram: @lauraspills
Images: Laura Minetti
For even more tutorials and inspiration be sure to check out NailItMag.com and follow them on Instagram for their latest uploads!