If flowy silhouettes, paisley prints, suede and fringe rule your wardrobe, it's pretty much safe to say that your style is boho chic. Eager to translate your free-spirited approach to fashion to your tips? We've got everything you need to take your cool, vintage-inspired look to your mani. From your color palette to designs for every type of tip personality, read on to find out everything you need to rock boho chic nail art all summer long.
Your Color Palette:
If you're looking to achieve a soft, bohemian vibe, opt for dusty, earth-toned pastels.
Try:
For those eager to play around with color, stick with inviting jewel tones.
Your Nail Art:
For the mani minimalist:
Opt for delicate lace or henna-inspired designs and colorful charms. Both patterns add retro flair to any shade without looking too wild.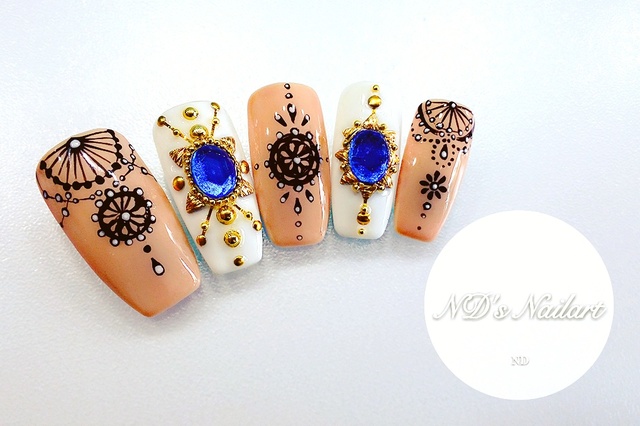 CREDIT: Nailstyle/@nddy
For the art aficionado:
If you're craving something a little more eye-catching, try recreating a colorful tie-dye design with water marbling. Before you begin, make sure to apply liquid latex around your nail to prevent polish from getting on your skin. To create the pattern, drop different colors of nail polish into a cup of water, then use a toothpick to carve out your design. Gently dip your nail into the water, then use a brush dipped in acetone to clean up any polish gone awry.
CREDIT: Nailstyle/ @Chalkboard Nails
Will you give this boho nail art a try? Let us know what you think about these boho-chic nails in the comments below and be sure to check out even more mani inspiration on Nailstyle!