We are thrilled to partner once again with the Professional Beauty Association (PBA) to promote all of the talented artists who are finalists for the 2017 NAHAs (North American Hairstyling Awards), the most prestigious hair and beauty award in the country. In this feature get to know more about this year's Nail Professional of the Year Finalist,Cassandra Clark.
Cassandra Clark takes nail art to new levels! This year, alongside creating beautiful nail art she crafted a pool to suspend her models in for the shoot. With Koi Fish and Koi Ponds as the inspiration, she fully immersed herself in the theme and left us all lusting after her stellar style.
---
If you could describe your collection in one word, what would it be?
Peaceful.
What was the inspiration behind this collection?
The inspiration behind this collection was Koi ponds. They are so beautiful and serene. The lotus blossoms are gorgeous and Koi are both bold in color and graceful in the water.
What was your favorite technique to use?
My favorite technique was painting the koi fish mural across the nails. The mural is a challenging technique, but what made it more fun was that I painted the Koi fish on the mural and the veins of color on the embellished set using a small brush loaded with monomer and tiny balls of neon acrylic powder. The saturated acrylic flowed into watercolors and blended so beautifully.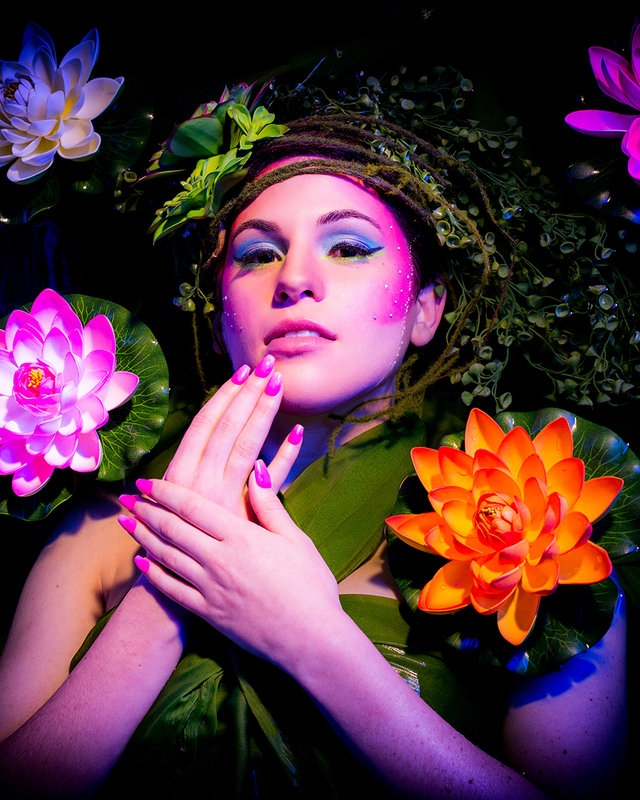 What was your biggest challenge in creating this collection?
There were a few challenges. Between shooting this with the model laying in a pool of water, mixing white light with black light to pull out the vibrant colors and lining up the mural just right, I'd have to say getting the mural perfectly aligned and shot before the slightest twitch of a finger. Fingers have minds of their own! The harder you try to control them, the more they wiggle.
What does your collection say about nail trends?
I'd have to say bright, bold colors are definitely trending with our clients. From a technical standpoint, nail techs are experimenting with unconventional products and embellishments to create art. Fabricating and ingenuity are being displayed, used and embraced by techs and clients alike.
Currently, what is your favorite nail design?
I love watercolors! It's fun and versatile. It can go from soft and sweet to a bold backdrop for graffiti style art.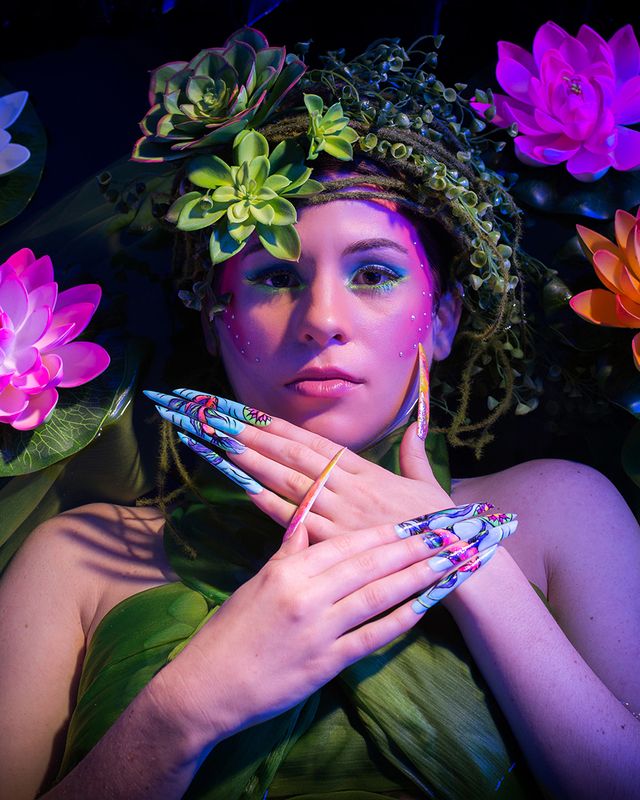 How did social media influence your work?
I am forever inspired by the incredible talent I see displayed on social media by my peers. When you have nail techs that not only share their art but also their technique, it elevates us all. It may help me figure out how to execute a particular technique or inspire me to create a new one.
Tell us a little more about you, as an artist.
I am equally left and right brained. It can help and it can hinder. I definitely have to be inspired to create, but once I get started, I laser focus and will work nonstop for hours on end. The left-brain part of my nature helps me plan, keep deadlines and problem solve.
How do you Vegas?
Indoors mostly hah. I'm not a gambler though. So there's probably good food, a good drink and a zip line in my future ;)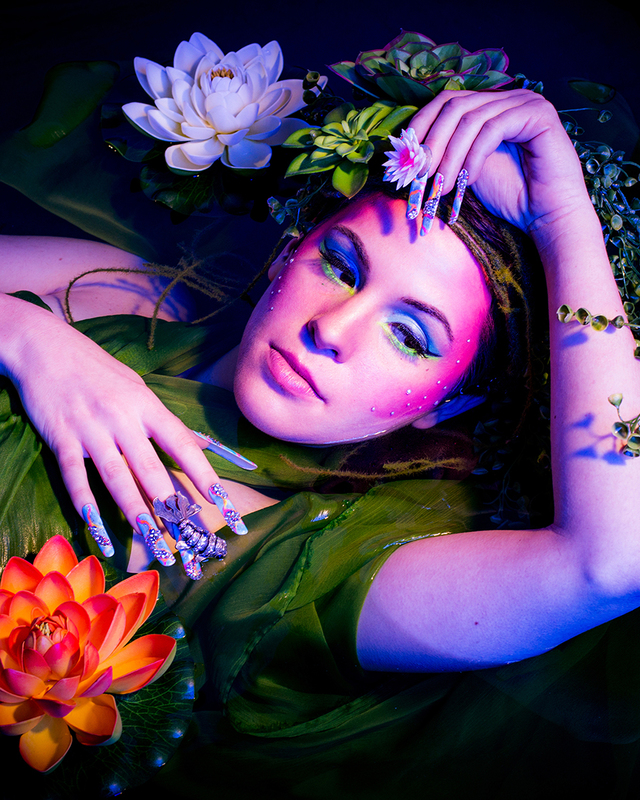 Salty or sweet?
Salty, for sure.
What did you learn about yourself through creating this collection?
I learned so much. I was able to put my fabricating and styling skills to the test quite a bit more with this collection. From putting the props and pool together, to making my models headpiece and dressing her, it was so much fun!
If you won the lotto (or slot machine) tomorrow, what would you do?
It would be something else if I did since I don't gamble, but if I suddenly came into some money, I'd probably keep my mouth shut and go back to work. Oh and buy soooooo many nail supplies!!
---
Want to see even more nail art inspiration from NAHA? Check it all out here!