We are thrilled to partner once again with the Professional Beauty Association (PBA) to promote all of the talented artists who are finalists for the 2018 NAHAs (North American Hairstyling Awards), the most prestigious hair and beauty award in the country. In this feature, get to know more about this year's Nail Professional Of The Year Finalist – Kimberly Harr.
---
How has nail art changed over the past few years?
Nail art changes with each passing year. Someone is always stepping outside of the box and pushing the boundaries of nail art. My favorite has always been 3D... extravagant to mild. It's my passion. I run a great group on Facebook called 3D Fanatics where new and seasoned 3D nail artists share their creations without fear of reprisal. I believe as nail artists keep pushing what they do, nail art will continue to grow with new creativity and endless products.
What was the inspiration behind this collection?
My inspiration behind my collection of photos came from my inner demons. Anxiety, depression, and fear of not ever being good enough. Each image shows these. Anxiety is the broken glass nails... depression is the image of her crying glitter. And loss of innocence is the pale nails. I had been going through a tough battle with my emotions just before I came up with my idea. One day I just sat down and spilled out the loss of innocence nails. After that, the other two sets came easily to me and I knew that's what I had to do. Anxiety and depression have always been a great struggle for me and these released from me.
What was your favorite technique to use?
My favorite technique for these nails was the shattered glass. I polished black gel polish over a large plastic bag, cured and then rubbed in a duochrome pigment. I topped with a clear gel and then cut each piece. To add dimension to the shards, I continued to add clear until they looked like real glass. I wrapped wire around the nails and added the same color of crystals to each nail.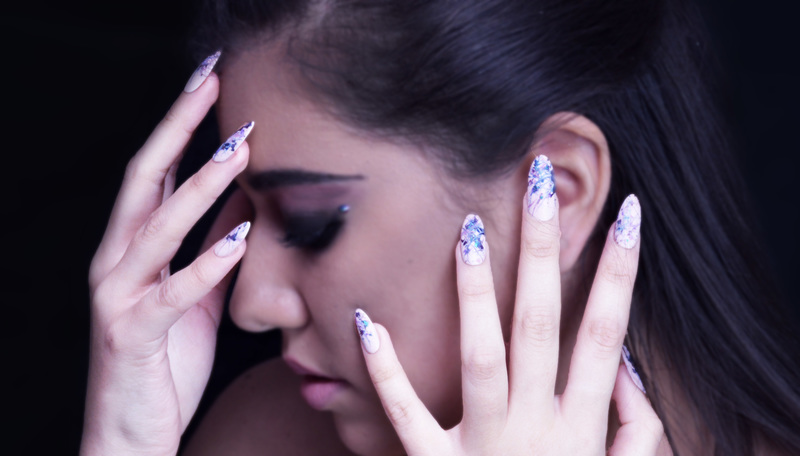 What was your biggest challenge in creating this collection?
My biggest challenge in doing these, was the actual photo shoot. I did my models makeup changes and changes the nails for each image. I was 7 days out of a major abdominal surgery and was still in significant pain. I pressed on and made sure these looked as good as I could make them. The pain that I was in just shone more through the images.
What does your collection say about nail trends?
My collection shows the use of chrome in two sets, which is very popular right now. I used it in two ways, matte and shiny to add depth to each set. I also used wire, which is a failure new trend that makes for a unique and beautiful piece of nail art.
What do you hope this collection conveys to your audience?
I really hope that this collection shows how very real anxiety and depression are. I'm a firm believer that art saves lives, by allowing you take your inner struggle and put them on to your canvas, whether it be nails, hair or paper. Art is beautiful in every form, and each artist conveys their work differently. I think if you look closely, you can see what the artist struggles with emotionally.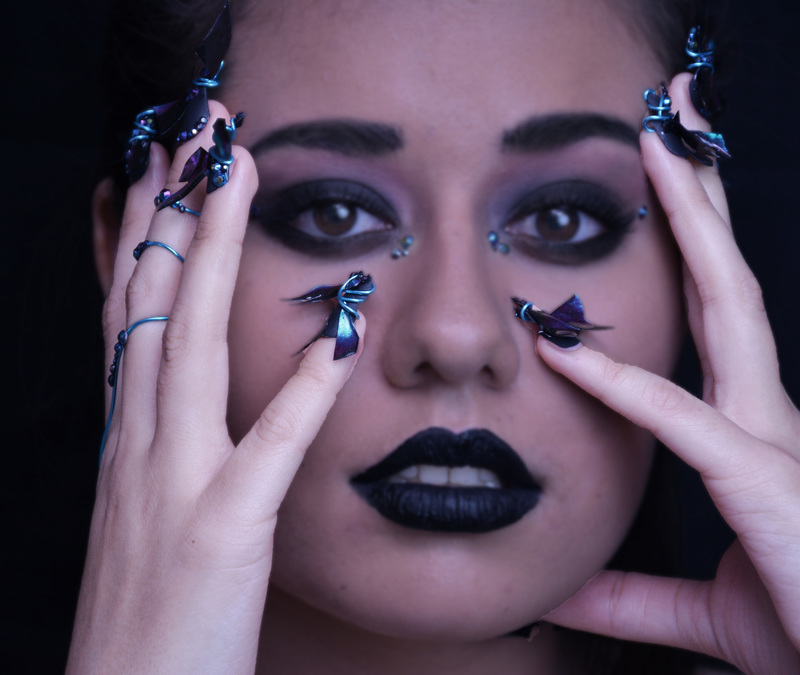 Currently, what is your favorite nail design?
My favorite nail design isn't a design in it's own right, but an amazing product. It's called Luminaura by SocialClaws. She has created an amazing iridescent pigment in two formulations. Luminaura and Luminaura Angel, which is a finer version of the first. No matter what color you put it over, it shows it's beauty. I always have this on hand and ask my clients if they would like it, even if it's just used as an accent nail.
How did social media influence your work?
I'm not sure social media influenced my work. Again, my ideas for these images came from my own inner struggles as a person.
Tell us a little more about you, as an artist.
Like most artists, I have my good days and bad days. There are times when I can keep coming up with idea after idea, other times, I'm very stuck with what I want to do. My favorite medium of nail art is 3D, so I almost always have a 3D component in my work.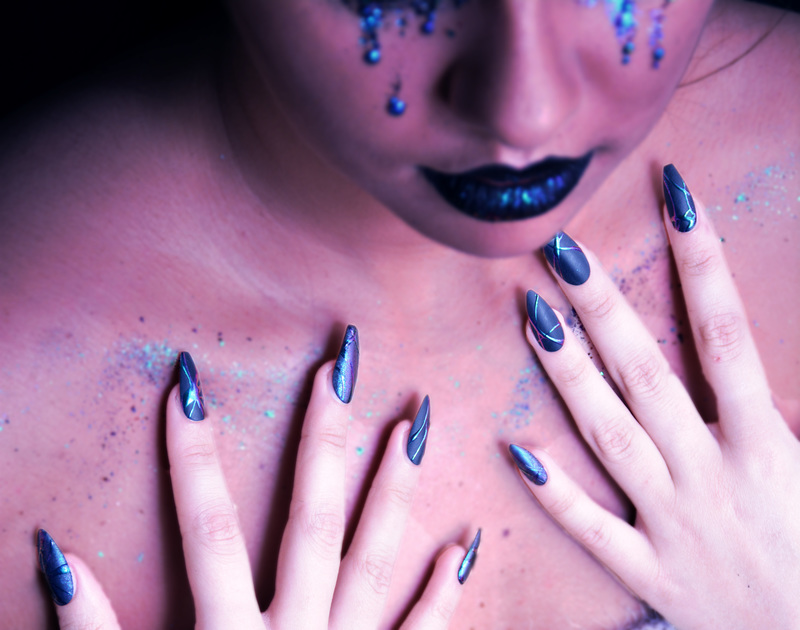 What did you learn about yourself through creating this collection?
I learned that I can do tough things, even when I'm not feeling well. My determination to get these done overpowered the pain I was in. I was 5 days from deadline when I did this photoshoot, so I had to push through if I wanted to enter NAHA.
If you won the lotto (or slot machine) tomorrow, what would you do?
If I won the lotto...hmmmm. I would help my loved ones and friends financially. I would make sure that they are taken care of to the best of my ability if I won something like that. Then I would spoil myse
How has competition work changed your career?
I love to compete. I've competed in Nailpro and Nailympia. It pushes me to make myself better in all that I do with nails. I always take each competition as a learning experience so I know what to do and what not to do for the next one. I tell this to everyone, take it as a learning experience, always. If you keep this mindset, you'll go far in the competition world.
---
Be sure to check out even more inspiration on Nailstyle and see the latest NAHA inspiration here!