Marbling has such a beautiful effect on nails. Whether it is done with elaborate colors or the traditional white with grey, we absolutely love the look. In this beautiful nail art tutorial Sheily Mae shows us how to take a traditional marble nail and make it sparkle! Follow along with the steps below to get the look!
---
Step 1: Start out with a white nail polish base. You will then use white and black acrylic paint. Thin down the acrylic paint with water and add random lines to create the marble effect.
Step 2: Once you are happy with your marbled nail, use a cosmetic makeup sponge and apply your glitter to it. This will allow you to transfer more glitter than with the polish brush alone. Dab the sponge to the tip of the nail and use the brush to make it look like a gradient.
Step 3: On the ring finger, add glitter polish that has bigger and smaller glitters, to bring the design together.
Step 4: Once you are happy with the design, add your top coat and you're done!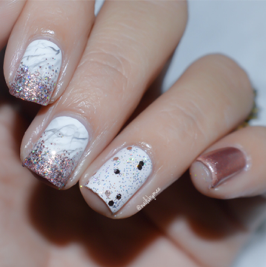 Be sure to stalk Sheily on Nailstyle and stay tuned for even more nail inspiration from Sheily Mae Nail Art!