We are thrilled to partner once again with the Professional Beauty Association (PBA) to promote all of the talented artists who are finalists for the 2017 NAHAs (North American Hairstyling Awards), the most prestigious hair and beauty award in the country. In this feature get to know more about this year's Nail Professional of the Year Finalist, Hillary Fry.
Hillary Fry's collection makes a splash with its minimal design; from her take on pointillism with colored beads or her fresh take on florals, her skill truly shines through. We could imagine wearing this art on a special occasion, or even on the daily if we could. Be sure to read on to learn more about Hilary's inspiration behind each image and to learn more about her as an artist.
---
If you could describe your collection in one word, what would it be?
Transitions.
What as the inspiration behind this collection?
Seasonal Opulence is the inspiration behind this collection. That beautiful moment in time that marks the height/transition of a season.
Nail Art 1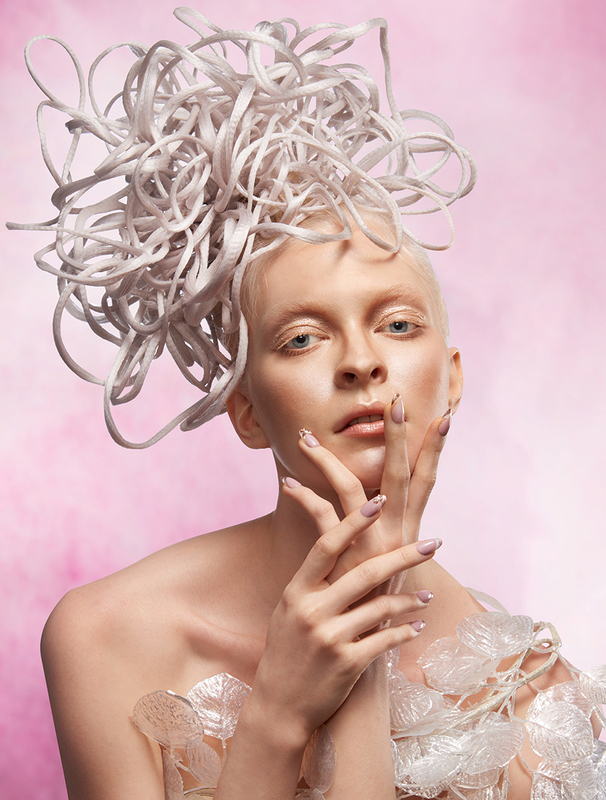 Spring emerges from a frosty landscape replete with icicle ropes and icy pink nails melting into negative space, kissed by the warm glow of gold tips. The first buds of spring form from dainty rose gold Swarovski pearl accents on these Salon Style nails
Nail Art 2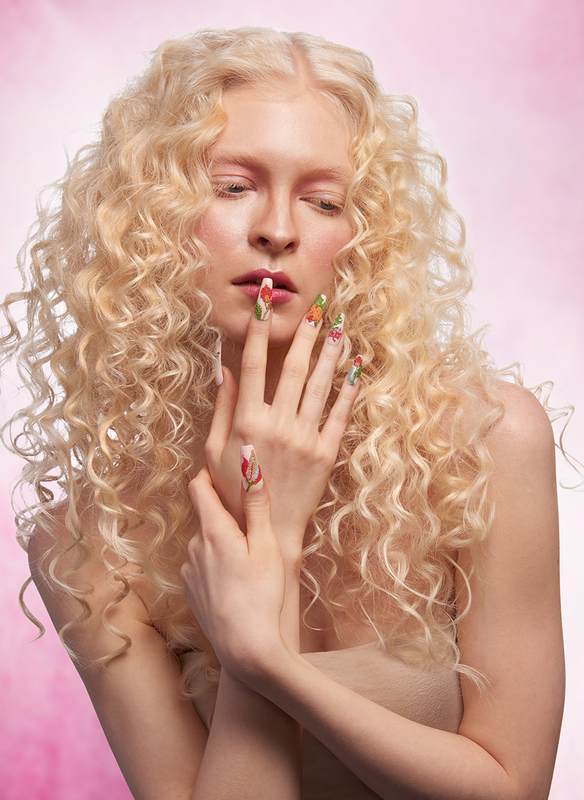 At its glorious height, summer is about lush, uninhibited growth. A cascade of golden curls nestles against vibrant florals, blooming forth from individually placed Swarovski caviar beads to form an embroidered, jeweled landscape on each Embellished nail
Nail Art 3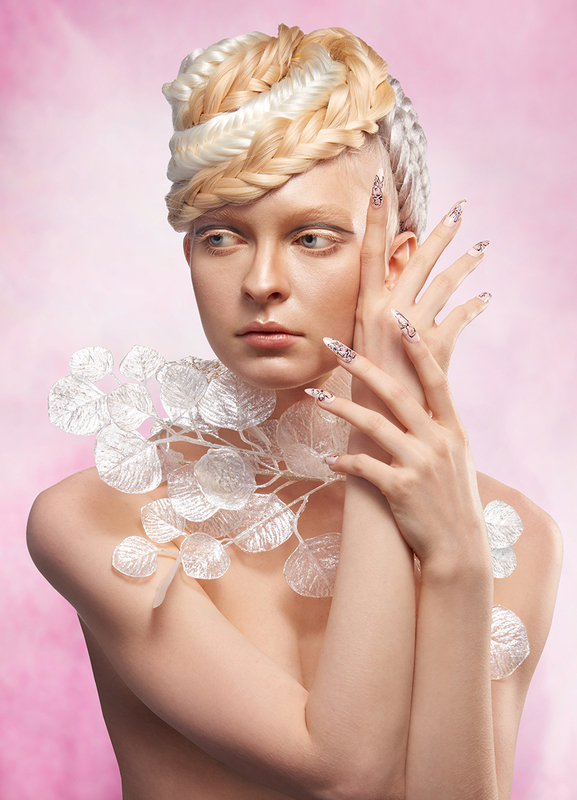 All good things must come to an end, but it's still a new beginning. The fall chill works top down, braiding its way through the last of summer's light. Line art florals in fading watercolors of blush and blue reflect the final glimpse of their Hand painted beauty. Until next season...
What was your favorite technique to use?
I loved the challenge in photo 2, embellishments. To look at these multiple pots of thousands of tiny colorful beads and then orchestrate them into a floral landscape was so ultimately satisfying.
What was your biggest challenge in creating this collection?
Time! Time is always an issue. On the other hand, what made it successful? The creative team.
What does your collection say about nail trends?
I try to be mindful that NAHA releases in July, and want to capture what I'm projecting will be influential for nails at that time. You never know if a trend will take root, but luckily florals are big. The modern French with rose gold/negative space, Swarovski/embroidery trend, and minimalist line drawing/hand painting all seem to be of the moment.
What do you hope this collection conveys to your audience?
We are always transitioning toward the next moment. The here and the now is temporary. There is a story in every event we experience, and beauty in every story. Find both.
Currently, what is your favorite nail design?
The many types of florals I'm seeing.
How did social media influence your work?
When I'm in the midst of creating, I try to stay away from influences because I hope to dig deep and see what I can create on my own. That said, I do think it is important to keep up with seasonal trends in fashion and beauty in general to create cohesiveness in an overall editorial. Afterwards, it's fun to pour over resources like Bangstyle/Nailstyle and our industry hair and makeup magazines.
Tell us a little more about you, as an artist.
I enjoy texture, hidden gems, and unexpected beauty. I appreciate most all forms of art expression, but as an extension of myself I prefer things make an understated statement.
How do you Vegas?
It's show time, people! That includes Cosmoprof, Professional Beauty Association, and JLO.
Salty or sweet?
I'll take a jar of anchovies over chocolate any day.
What did you learn about yourself through creating this collection?
It reinforced how much I love the creative direction aspect; creating a message through imagery. How much I appreciate and find energy from the creative collaboration. I love the tiniest of details and the big picture too. I'm a forest and trees kind of creative, and hope to keep doing more with and for this amazing industry.
If you won the lotto (or slot machine) tomorrow, what would you do?
Let's hit the jackpot and find out!
---
Be sure to stalk Hillary on Nailstyle and stay tuned for even more nail inspiration!