We are thrilled to partner once again with the Professional Beauty Association (PBA) to promote all of the talented artists who are finalists for the 2017 NAHAs (North American Hairstyling Awards), the most prestigious hair and beauty award in the country. In this feature get to know more about this year's Nail Professional of the Year Finalist, Paige Roy.
Paige Roy, also known as @princess_paige1, has captured our hearts alongside our eyes with this beautiful collection. All of her designs prove to be showstoppers, but this year her NAHA entry really wowed us (and you haven't even seen how they glow in the dark)! Creating a sculpture with hard gel that is out of this world – it is no wonder that she was inspired by bioluminescence and the deep sea! Follow along below to see her absolute artistry and learn which nail design she created on herself!
---
If you could describe your collection in one word, what would it be?
One word to I would use to describe my collection would be: "Alien".
What was the inspiration behind this collection?
The inspiration behind my collection was Bioluminescence. I wanted it very blue, glowy, and crystal clear. Some inspiration was deep-sea creatures and a bit of the fauna from the Avatar film. I wanted it to have a magical glow to it.
What was your favorite technique to use?
My favorite technique used was my signature Twisted Tips! It was incredibly annoying doing both my own hands and it took forever but I love how it turned out!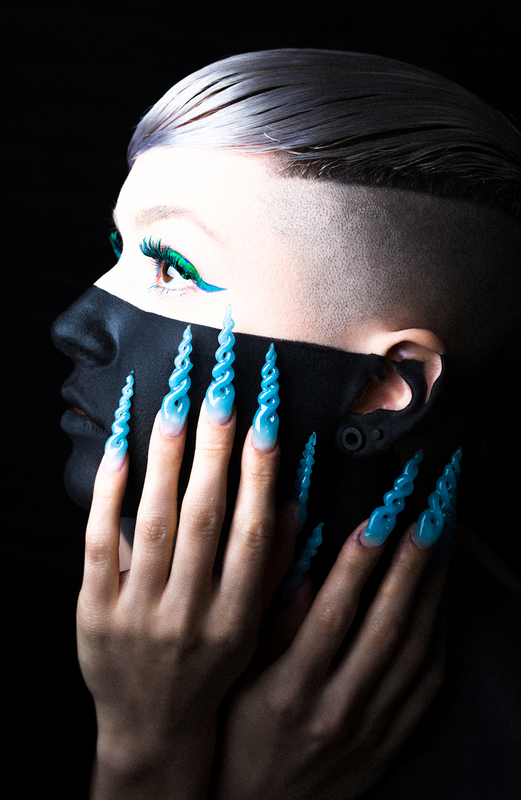 What was your biggest challenge in creating this collection?
The biggest challenge was creating the "Crystal" flower. I had the idea for almost a year just sitting in my brain, some kind of big crystal clear flower that would have a light in the middle. Then NAHA entry was coming close and I just said, "That's it! I'm figuring this out!" It turned out so great and the leaves and vines all came out how I wanted. I'm so happy with it. It was all made with Hard Gel, sculpted by hand. The middle lights up so it becomes almost fiber optic in the dark.
What does your collection say about nail trends?
I'm not sure my collection says much about nail trends. I had the idea for so long I didn't pay attention to what was on trend I just focused on creating the main elements and building the rest around it.
How do you dream up your designs?
I usually dream up my designs when I'm watching something beautiful. Usually a nature documentary but another favorite is being inspired by a movie that's really well shot –something creative with a beautiful color palette.
Currently, what is your favorite nail design?
My current favorite nail design is my Gel Flower! I'm just obsessed with it.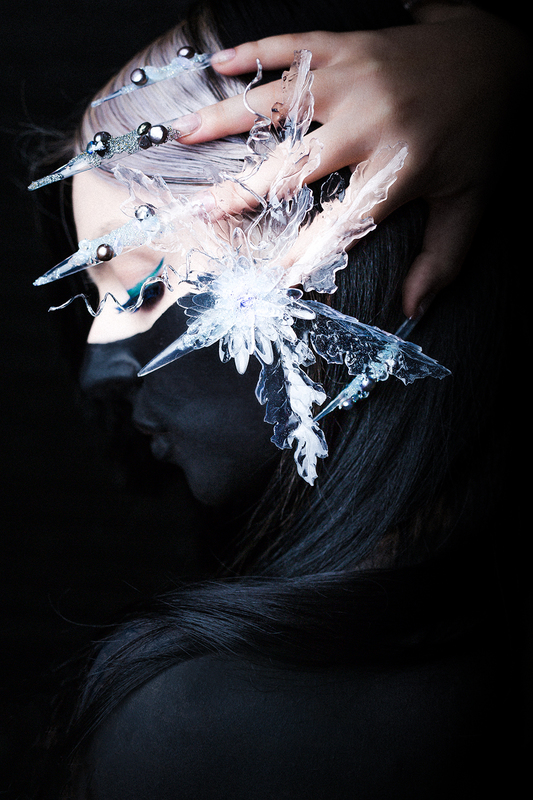 How did social media influence your work?
Social media is super influential because you can meet so many great people and be inspired and supported by each other. I love finding an artist doing something completely different than anyone else to get my brain working.
Tell us more about you, as an artist.
As an artist I just keep trying to do stuff no one else is doing. Maybe not even stuff that's totally salon friendly (haha), but something fun. I really prefer the art side of the industry and I'd love to create more art sets for display and photoshoots.
How do you Vegas?
In Vegas you can find me at the Aquarium or walking in the sun looking at flamingoes.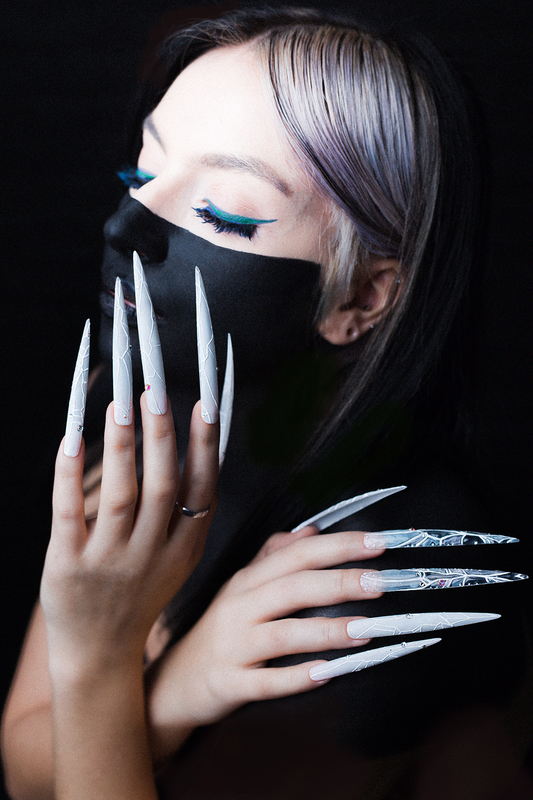 Salty or sweet?
Anything involved with chocolate, haha.
What did you learn about yourself through creating this collection?
I learned that I really love being snuggled up at home creating large, intricate nail sets.
If you won the lotto (or slot machine) tomorrow, what would you do?
If I won the lotto I would give half to my parents and pay off all of my debts, then help out family and friends who need it. THEN travel around for a couple months and relax. Also probably have a small house full of cats to hug.
---
Want to see more of Paige's beautiful work? Be sure to stalk her on Nailstyle and follow her on Instagram @princess_paige1!