Amber Morgan, also known as The Mani-Camper has a truly beautiful aesthetic when it comes to nail art. With a background in painting, her nail art is such a fun canvas to show off her art. With intricate designs and put together look that anyone would want to wear, we absolutely love her look! She began in nail obsession in New York and took it with her when she moved back to Texas, creating a nail studio in a '73 Shasta camper, thus the name "The Mani-Camper". Read on to learn more about her and see some of her work and if you're ever in Texas, be sure to give her a shout!
---
Tell us more about you: How did you get your start in nail art?
I loved nail art growing up and I would experiment on friends, family and myself all the time. Not until my time in NYC did I get serious about it. I worked at a nail art studio there and learned about so many different products and techniques that made the process more fun and creative. I learned that the possibilities are endless when it comes to nail art. When I moved back to Texas I continued to grow as a nail artist and now I have a '73 Shasta camper that I turned into a mobile nail studio! The combo of nail art and working out of a vintage camper makes work so fun!:)
Where do you get your inspiration?
I find inspiration everywhere. It could be from a throw pillow or a pretty pattern on someone's shirt.
What is the craziest nail look you've ever created?
Maybe the Adele nails. I had so much fun doing them and used them to try and pitch doing her nails when her tour came to Dallas. Sadly I had no luck but maybe one day! Lol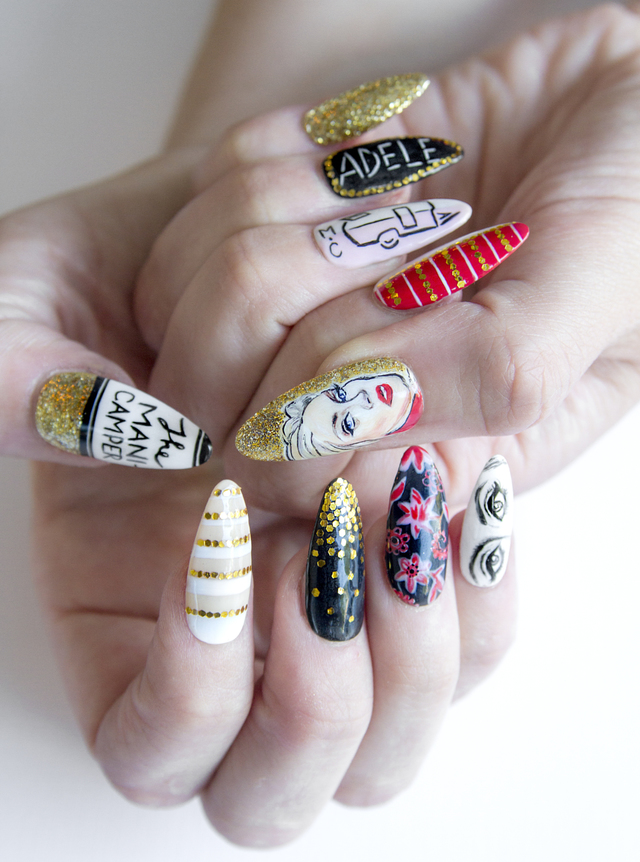 What is your number one tip for nail art?
Make sure you have a clear vision of what you want to create before you start. Have a set theme and color palette so you end up with a cohesive design.
Shimmer or Glitter?
Glitter!
Current obsession?
Wire and stud work.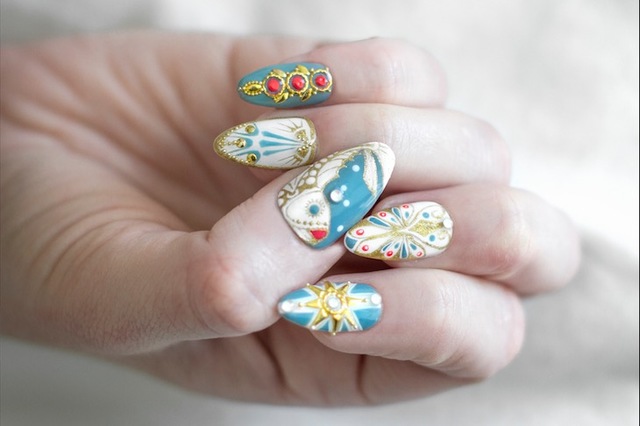 Favorite style of nail art to create?
I love florals, abstract, geometric, and watercolor. (I can't choose just one!) I'm a painter so I love to do all of the hand painting!
What colors do you think will be in this spring/summer?
Still seeing lots of the rose quartz color! Also I'm thinking neon (especially yellow) will be hot for nails!
Any other trends you see on the horizon?
70's! Yea baby yea! :)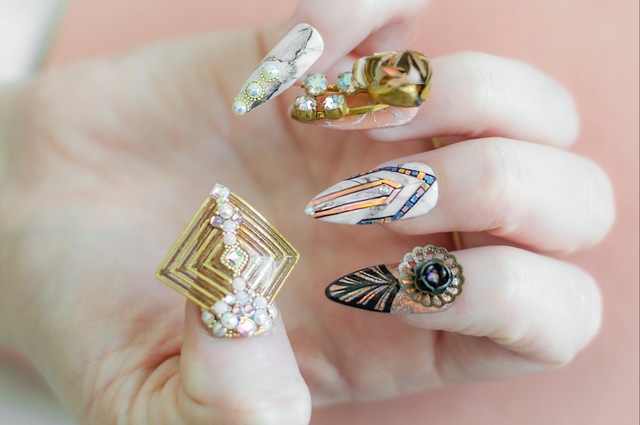 ---
Be sure to stalk The Mani-Camper on Nailstyle and check out even more nail inspiration here!