Counting down the days until that long-awaited summer getaway? Before you drift off into full-on vacation mode, make sure you're packed all the essentials to keep your mani in check. Read on to find out the top five nail necessities every polish aficionado should pack in her luggage.
1) Cuticle Oil
Warmer weather wreaks havoc on nails, leaving skin dry and flaky. Make sure to pack a trusty cuticle oil that packs extra nourishment, such as CND SolarOil. This heavy-duty treatment contains jojoba oil and vitamin E for added hydration, and won't leave nails feeling sticky and greasy.
2) Top Coat
If you want your mani and pedi to last as long as your vacay, make sure to throw a top coat into your bag. CND Vinylux Weekly Top Coat is specially formulated for any CND Vinylux shade, leaving your tips with ultra-glossy, chip-free shine .
3) Mini Polish Bottles
Chipped polish happens to the best of us, no matter how often we apply top coat. Always keep a mini bottle of whatever polish you're wearing in your bag for quick color touch-ups on the go. Another great option? Stash a travel-sized bottle of glitter polish in your purse. You can apply it over the chipped polish for an easy accent nail.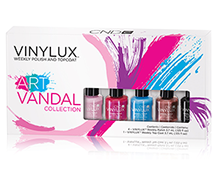 4) Hand Lotion
A hydrating moisturizer is crucial during the hot summer months. Try packing a lotion that performs double duty, such as CND Bright Citron Lotion. This nourishing creme can be used on both hands and body, leaving skin baby-soft with a refreshing citrus scent.
5) Nail File
Don't forget to stash a nail file in your bag just in case you break a nail or need to smooth out any sharp edges. Plus, it's good to have a file handy if you need to remove your gel mani while you're away. (Remember: Always file off the top layer before soaking!)
---
Want to see the latest nail tutorials? Check out CND on Nailstyle and visit CNDUniversity for all the latest education and be sure to follow @cndworld on social!