Whether it's a studded choker or sleek leather pants, every woman loves to take a walk on the wild side with her wardrobe every once in a while. If pushing the limits with your style is your forte, then it's time to take your tip couture up a notch. Check out the top edgy nail styles to keep on repeat this summer.
Your Style Icons: Kate Moss, Courtney Love, Kristen Stewart
Your Color Palette: Gunmetal glitter, silver chrome and bold red-orange shades read effortless, "I'm-with-the-band" chic. Play around with matte and ultra-glossy top coats to add extra dimension to your tips.
OPI Lucerne-tainly Look Marvelous
Essie No Place Like Chrome
CND Tropix
Your Nail Art:
For the Mani Minimalist:
CREDIT: Nailstyle/@oksana_oblap
Silver studs and a sleek matte finish give any nail color a modern edge. When working with a group of stud embellishments, use a clear gel or nail glue to secure them to the nail. Top coat will not provide enough adhesion to keep the embellishments in place.
For the Art Aficionado: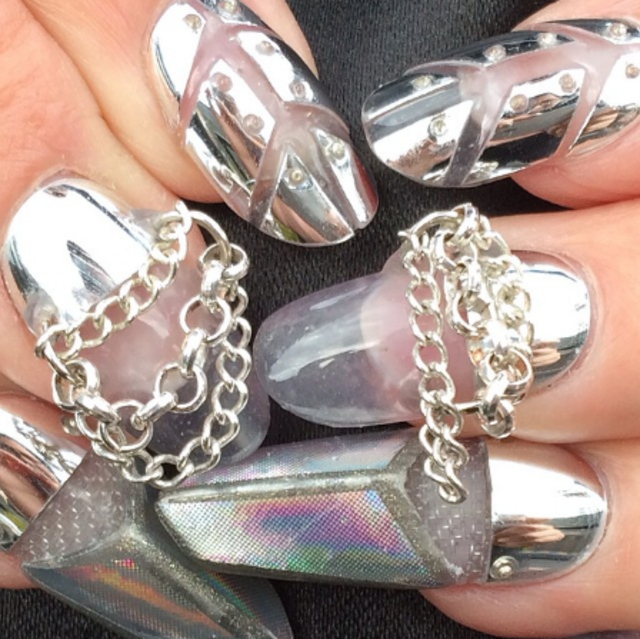 CREDIT: Nailstyle/@Shelena Robinson - Clear Retention + sculpts with buried silver mesh; Lauren Wireman crafted the heavy metal armor for Jan Arnold
For those looking for something more daring, amp up any chrome mani with dangling chain accents. A cool way to add new meaning to the term "heavy metal," nail piercings are not for the faint of heart and are best left to the professionals. Mix up the look with a modern nail shape and hints of negative space.
---
Do you feel on top of the trends? Let us know what you think about these fashion forward nails in the comments below and be sure to check out even more mani inspiration on Nailstyle!