We are thrilled to partner once again with the Professional Beauty Association (PBA) to promote all of the talented artists who are finalists for the 2018 NAHAs (North American Hairstyling Awards), the most prestigious hair and beauty award in the country. In this feature, get to know more about this year's Nail Professional Of The Year Finalist – Paige Roy.
Paige Roy, aka Princess Paige has created some of the most stunning nail designs – and she usually does them on her own hands, which is the mind-blowing part about it! This year her collection was inspired by nature, specifically from the new BBC Planet Earth series. If you've seen the episodes or even the previews you're going to want to check out Paige's stunning collection, it is too good to be true! Keep reading to get to know more about Paige as an artist and what she predicts we'll be seeing within the world of nail art!
---
How has nail art changed over the past few years?
Nail Art has become very mainstream. So I think it's changed and evolved into so many things now because people are all actually wanting something fun on their nails and they are up to getting something more "out there" than they were before. I think people are being so creative and inventive, it's so exciting.
What was the inspiration behind this collection?
The inspiration behind my collection was hummingbirds. I was watching the new Planet Earth series and the episode had all these amazing little birds in it and I just grabbed my notebook and started sketching.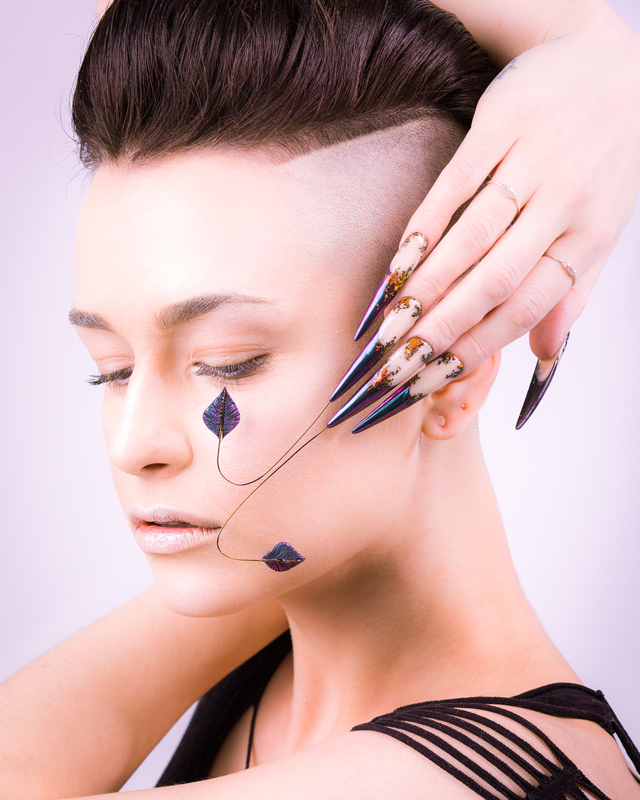 What was your favorite technique to use?
My favorite technique to use was making the feathers out of 4D gel, because I had to experiment to find out what exactly would give the look I was going for. And it took a LONG time to make all of those so it was very satisfying to see it come together how I wanted.
What was your biggest challenge in creating this collection?
My biggest challenge was placing the feathers into the nails! It was a lengthy process.
What does your collection say about nail trends?
In keeping with nail trends, my collection had a Chrome pigment in every set to tie them all together and create a theme, as well as to give different textures.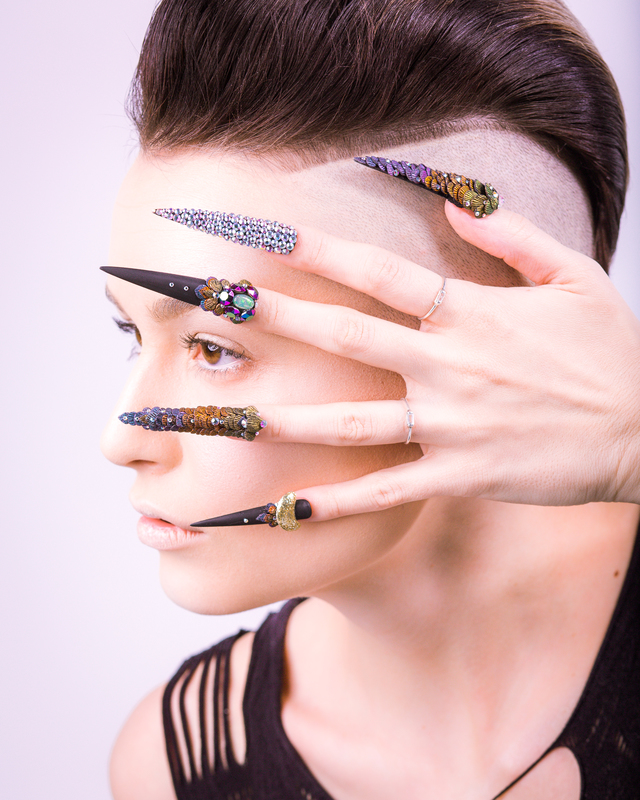 What do you hope this collection conveys to your audience?
I wanted this collection to make people look twice. There are lots of hidden details.
Currently, what is your favorite nail design?
My favorite thing to see on nails is amazing shaping and proper technique for constructing your base.
How did social media influence your work?
Social Media is a hard thing to juggle with in regards to my work. People tend to love something they can see themselves wearing and I really love being more creative and making something exciting. But the great thing is I'm friends on social media with so many great Nail Technicians so you receive support and inspiration from each other and can connect and talk so it's really amazing. And I've found every extra course I've taken through social media.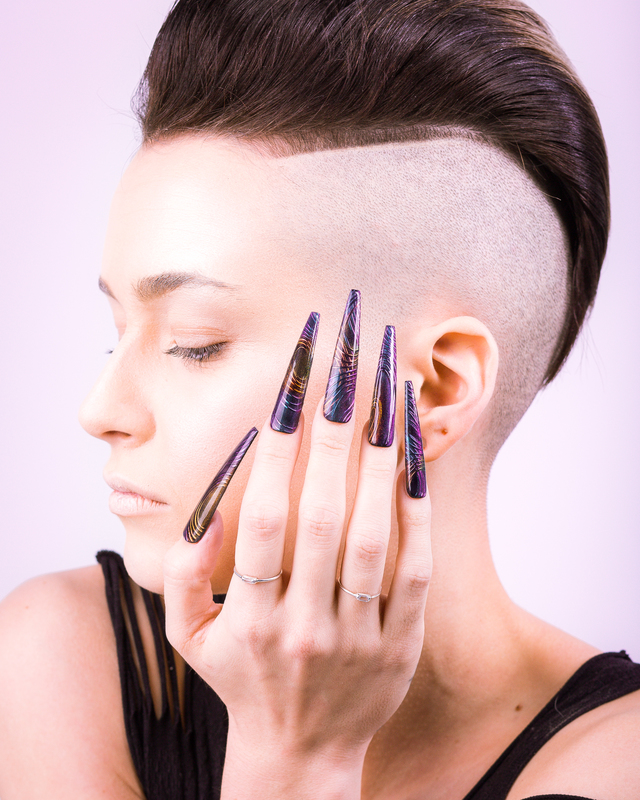 Tell us a little more about you, as an artist.
Well, I almost always get my ideas from watching nature documentaries, I like to try and be inventive and use materials that aren't necessarily conventional. I love to try and do something new. I just like to put a bunch of fun things in front of me and start messing around and see what happens.
What did you learn about yourself through creating this collection?
Through creating my NAHA collections throughout these past few years, I've learned that I love to try and push my boundaries on what I can achieve with nail products.
If you won the lotto (or slot machine) tomorrow, what would you do?
I would go on vacation. It's been a very long year for me already and it's just begun, haha! I would for sure just share it around and help out lots of people that I've always wanted to help.
How has competition work influenced your career?
Competition work has given me something to look forward to in my career. I love my clients but it's very draining for me to be talking all day and working long hours. When I do my competitions I can do what I want - not constantly recreating work from the latest Instagram Nail celebrity for my clients who have social media. I can work with such creative people. I meet new people and I travel for the industry shows. It's so much fun and it shakes up your life.
---
Be sure to check out even more of Paige Roy's work on Nailstyle and see the latest NAHA inspiration here!