With the start of summer only weeks away, it's time to get your feet into tip-top shape. Whether you visit the salon or DIY, we've got everything you need to keep your toes on point. Check out our top five pedi essentials for sandal season.
1) Foot soak
Nothing brings tired, aching feet back to life faster than an invigorating soak. For added relaxation, opt for a formula infused with aromatherapy. Soak feet for about 10-12 minutes to soften skin.
2) Scrub
Barefoot beach strolls and constant sandal wearing wreak havoc on feet. After soaking, make sure to use a scrub at least once a week to exfoliate dead skin and leave your feet feeling baby soft.
3) Pumice stone or callus buffer
Calluses are areas of hardened skin that have experienced excess irritation, friction or pressure. Because they are a result of your body's natural defense system, calluses cannot be removed. Rather, the skin can be softened and reduced with a pumice stone or callus buffer. To treat calluses, dip a pumice stone in water, than gently use the stone to file the callus down.
Try: CND SpaPedicure Callus Smoother
4) Lotion
Opt for an ultra-hydrating moisturizer infused with powerhouse ingredients such as urea, shea butter and nourishing coconut, avocado or olive oil. After exfoliating, slather on a thick layer of cream, and if you're skipping the lacquer (and can bear the extra layer), slip on a pair of lightweight socks to help the product better absorb into your skin.
Try: Cucumber Heel Therapy Intensive Treatment
5) Color and art
For most polish aficionados, the best part of any pedi service is selecting the perfect color and design. When it comes to color, nothing says summer more than electric neons and warm, bronzy shades. As for toe nail art, designs have come a long way since the days of single Hawaiian flowers. The key to rocking art on your toes? Keep it subtle and low-key. Hints of glitter, color blocking or abstract watercolor designs look fun and playful, but not overdone.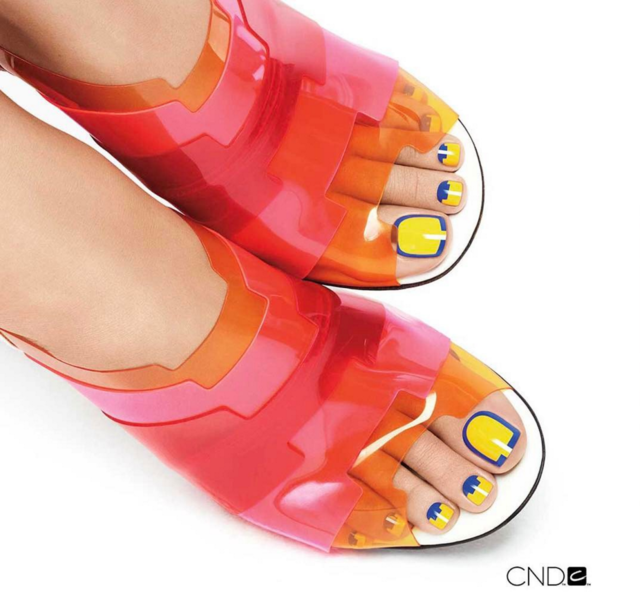 Looking for the latest nail tutorials? Check out CND on Nailstyle and be sure to follow @cndworld on social!