It's time to get serious about your nail care routine! Stop leaving the well-being of your nails in the hands of your nail tech and instead start giving your digits the attention they deserve. Read on to learn the top habits to get your nails into tip-top shape this year.
1. Apply Cuticle Oil
It may seem repetitive, but the skin around nails gets dry every time you wash your hands. Though it would be ideal to apply cuticle oil after every hand-washing, start out by applying it twice a day to keep nails and fingers hydrated and soft.
2. Pick Healthy Options
Though topical treatments can be effective, there's no better way to kickstart your nail health than with a good diet. Incorporate a lot of leafy greens and lean meats and fish into your meals to get fast results.
3. Stay Hydrated
Drinking more water should be everyone's New Year's resolution. Not only does it contribute to your overall health, it will also promote nail growth.
4. Apply a Base Coat
Sure, painting your nails may be a timely process, but that's no reason to skimp out on the base coat. Unless you want the polish to stain your nail plate, break out the base coat before applying polish.
5. Perform Cuticle Maintenance Daily
As most polish aficionados know, it's best to push back cuticles, rather than nip them. By gently pushing them back every day (ideally in the shower while your skin is soft), you won't have much to do during your manicure.
6. File, Don't Cut
When looking to shorten your nails, opt to file them in one direction rather than clip them. This will prevent breakage and allow the nail to continue to grow.
7. Never Peel Off Gel Polish
The one bad habit every woman is guilty of at least one time or another. Peeling off gel polish will damage the nail plate. Instead, use acetone and foil wraps to help break down the product. If you can't resist the urge to pick at your nails, purchase a peel-off base coat.
We Suggest: Orly One Night Stand Peel Off Basecoat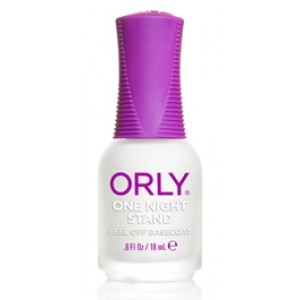 8. Take a Breather
If you're a nail extension or gel polish devotee, allow your tips to "breathe" at least once every couple of months to keep them strong and healthy.
9. Stop Using Nails as a Tool
As tempting as it may be to open soda cans, peel off labels and text with the tip of your nail—don't! Doing so will result in breakage.
10. Apply Lotion Daily
Flawless nails will look ragged if your skin is dry and cracking. To ensure your skin remains hydrated, always apply a moisturizer after washing your hands and showering.