May Kelly won the 2018 Nailstyle Artist to Reign Tops with her gorgeous creamsicle and periwinkle dot and sparkle nails. With the perfect amount of gloss and shimmer, it is the perfect style for spring. An accomplished nail artist, May Kelly spends a great deal of time researching online, through social media and in magazines to grow her skill set and inspiration. Keep reading to learn more about this amazing artist and see her beautiful work!
Can you tell us more about your background as an artist and how you got started in nails?
I had just qualified in my level 2 beauty and decided that I would like to specialise in a specific area rather than just be an all-rounder. I decided to do a nail course to pass the time a few nights per week after doing my 8-5 shifts in retail. I became very interested in nails and the science behind them so I studied them further, gaining more and more knowledge through my own independent research online, and in magazines.
How does it feel to Reign The Tops?
I am very honoured to Reign the Tops as it gives me a massive confidence boost. Knowing that such a huge number of people voted and supported my work within such a short period of time shows me that all the time and effort that goes into my work really is worthwhile.
How did you create your winning image?
I created my winning imagine by firstly extending the clients nails with acrylic. I then painted them with gel polish. This client was going on holidays to Ibiza and wanted something funky so I first picked colours that clashed however complimented each other. I then used some holographic foils, galaxy holographic flakes, coloured dots and chameleon flakes. These were then sealed with a high gloss top coat.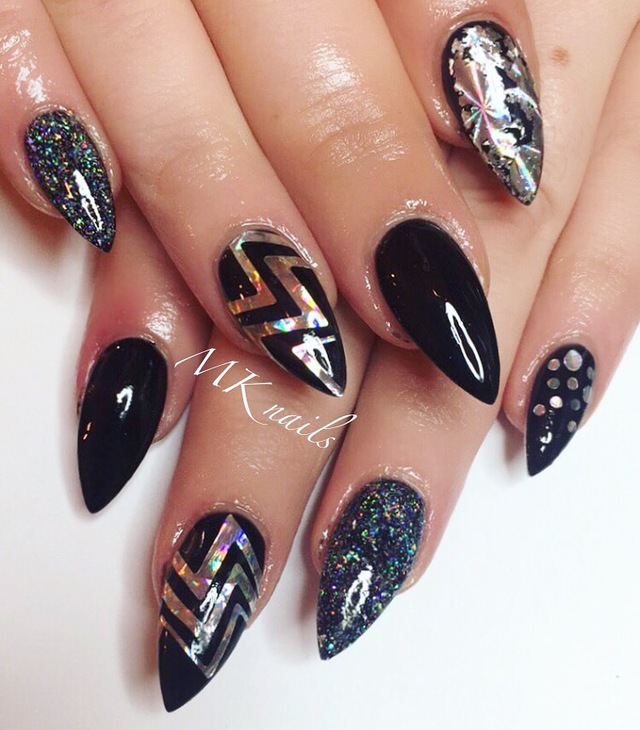 What was the most important detail for you?
The most important detail for me in any set of nails has to be the shape. Once the shape is right, the nail art tends to follow and everything falls into place. Obviously paying attention to detail on each and every nail is important which is why planning beforehand is a good idea so everything runs smooth and every detail is in place.
Are there any trends you predict for the year ahead?
I don't necessarily predict any specific trends this year as each individual is different and has their own style. Also, the trends change with the time of year. I do however love to use glitter and with such a wide variety of glitters available, I'm sure that no matter the trend, glitter is always good alongside it.
Is there one tool you can't live without?
The one tool I can't live without in the nail world is actually a good nail file. Without a good file, the perfect shape cannot be achieved, and as I mentioned earlier, the shape of the nail is one of the most important factors in a set of nails.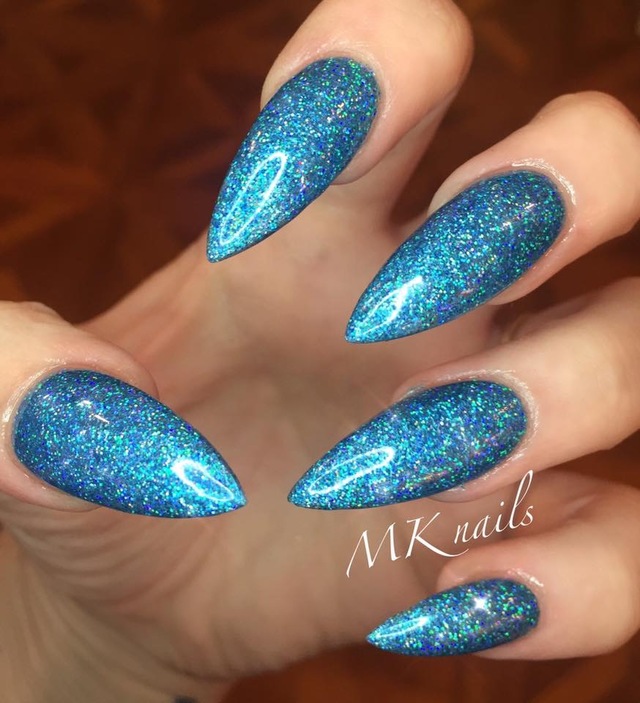 Which came first, the colors or the style?
The colours of the nails came first. Once the client mentioned she was going to Ibiza I wanted to do something bright and funky. These two colours seemed very relevant for Ibiza along with holographic silver.
Where do you usually draw inspiration? What was your biggest inspiration for this image? I always draw my inspiration on an art pad. I note down all different types of products, ideas etc and from there I can create my own set of nails tailored to my client and their preference. The inspiration for my winning set of nails was Ibiza. They needed to be bright, funky, glittery and relevant.
When creating a collection, what's your first step? What's the last?
When creating a collection the first step I take is picking a colour and compromising with the client. Depending on the clients needs the style of nail will vary however most of my clients give me a free run on their nails. Before completing a set of nails though I will have a small consultation with the client, showing them my idea and the products that I would like to use. Usually all is ok and I can create a beautiful set of nails specifically for each individual client.
What has your biggest accomplishment been in your career so far?
My biggest accomplishment so far in my career is becoming self-employed as a nail technician and having so much support behind me. So far it has been very successful. Winning the Reign of the Tops has also been amazing and such a great achievement that I am so grateful for. I also have a few things up my sleeve for the next few months, which will be a massive accomplishment if all goes to plan.
What steps did you take to get there?
One of the biggest steps and risks I took to get where I am now was giving up my full-time job in retail, jumping in the deep end and becoming self-employed. I didn't have a huge clientele to begin with but it very quickly built up, giving me more and more confidence, which allowed me to become more creative with my work. Now, I will give anything a go and I've also realised that it is all about trial and error. There's always room for improvement so I am always trying to better my work. As they say 'practice makes perfect.'
Who were your mentors along the way?
My mentor along the way was a tutor from a local college. This is where I completed my training and obtained my level 2 in nail technology. However, I am self-taught in a lot of areas such as nail art, procedures, and products. I did and still do a lot of research online, in magazines and books, and on forums. I also love going on Instagram and seeing all the different types of nails by all different artists. I also watch a lot of tutorials on YouTube. Here you gain a lot of knowledge, hints, and tips from all the videos.
How did you develop your unique style?
I developed my unique style by listening to clients needs. I have an eye for art so this helps me create the style of nails that I do. I also take into consideration any nail trends at that time, the client's skin tone, age, occasion etc. A lot of factors have an effect on the style of nails being created so this is why a consultation is always important beforehand.
---
Be sure to stalk May Kelly on Nailstyle to see her latest styles and stay tuned for more trends!